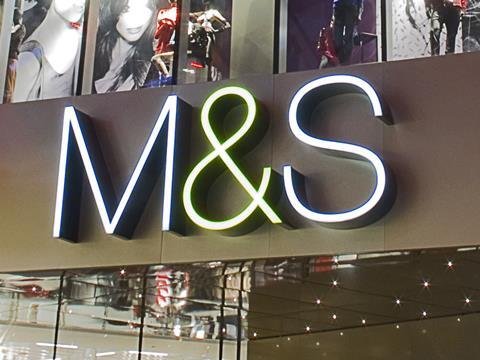 Top story
Marks & Spencer has warned its profits will take a hit this year as the squeeze on household finances gets tighter.
In its annual results, the high street bellwether said there was no sign of inflation abating and it expected the impact of declining real incomes to sharpen in the second half and endure into 2023.
Although the group added it was "well-positioned" for the next stage of its transformation as CEO Steve Rowe departs the business, it admitted profits would be lower in the 2022/23 financial year.
Plans to invest further in capacity at it Ocado joint venture, a loss of sales from Russia, where the group has exited, and a lack of business rates relief will see M&S starting the new year from a lower profits base.
"Given the increasing cost pressures and consumer uncertainty we do not currently expect to progress from this lower profit base in 2022/23," it said.
It comes as outgoing boss Steve Rowe declared that the high street retailer was a "fundamentally" different business from the one he took over six years ago as the group increased revenues and returned to profitability.
Rowe has revamped the food business and overseen a turnaround of the embattled clothing and home divisions as part of a wide-ranging transformation plan, which has resulted in two upgrades to market expectations this year.
Revenues for the 52 weeks ended 2 April increased 6.9% to £10.9bn, compared with two years ago before the pandemic hit, while operating profits soared 20% to £709m on a two-year basis.
The group also returned to a pre-tax profit of £391.7m in the year after booking a £201.2m loss in 2020/21.
In its food business, M&S recorded growth of 10.1% versus pre-pandemic levels, which rose to almost 15% when stripping out the hit to hospitality and franchise sales.
Growth has been driven by a shift to larger stores, a growing range of products and a subsequent expansion of shopper basket size.
Customers have also been able to buy M&S food online for the first time thanks to its partnership with Ocado.
However, revenues at Ocado Retail fell 4.4% in the year to £2.2bn as trading began to normalise and basket size decreased (down from £145 to £123 in the fourth quarter) following a huge surge in demand during lockdown. A fire at the Ocado Retail CFC in Erith also hit capacity during the year and saw a reduction in M&S' share of profit from the JV.
Clothing and home sales were also up 3.8% and it saw online growth of 55.6%.
Rowe said: "When I took over the reins at M&S six years ago, I committed to tackling the underlying issues that had eroded the strength of the business and building the foundations for future growth.
"For me, what is important about these results is not just the restoration of profit and strong cashflow; it is that they demonstrate that M&S has fundamentally changed."
He added: "While there is much more to do, the business has moved beyond proving its relevance and has the opportunity for substantial future growth.
"It has been my privilege to be the steward and shopkeeper of this fantastic business and extraordinary brand at such an important stage in its history.
"The changes we have delivered are down to the commitment and hard work of colleagues across the business, and I am delighted to hand the baton on to Stuart, Katie and Eoin to lead the next phase."
Shares in M&S are currently up 2.1% to 135.1p after recovering from an early blip when markets opened as the stock fell to 129.9p.
Morning update
In a separate announcement, Ocado Retail said it was feeling the effects of the cost-of-living crisis as shoppers put one or two items less in their baskets.
The online partnership with M&S reported that the value of the average basket was currently trending 9% lower compared with a year ago.
It added that, overall, food price inflation in the average basket was trending in the low single digits.
Over the week beginning the 9 May, Ocado Retail delivered 400,000 orders to customers for the first time. However, although customer numbers expanded (up 12% year-on-year), the rate of growth slowed as consumers responded to short-term discounts and promotions. A combination of slower growth in customer transactions, and a lower average basket, meant Ocado Retail sales fell 8% in the second quarter in the period up to and including the 25 April, compared with a 5.7% decline reported in the first three months of the year.
"Given expectations that the effects of the cost of living crisis will intensify, with a further rise in utility prices anticipated in the autumn, Ocado Retail now expects that sales growth in FY22, while positive, will nonetheless be in the low single digits rather than around 10%, to which we guided previously," the JV said.
Shares in the wider Ocado Group plunged another 3.9% to 733.4p this morning on the gloomy news, taking the stock down almost 53% so far in 2022 and almost 75% lower than its 2,819p high during the 2020 pandemic-inspired high.
Pets at Home has increased revenues 16% to £1.3bn in the 53 weeks to 31 March as a boom in puppy and kitten ownership provided a wealth of new customers.
Retail sales soared 18.5% year on year to £1.2bn, but its vetinary division saw a 12% decline to £108.4m.
Underlying pre-tax profits jumped 65.3% to £144.7m as a result.
Looking ahead, the group said profits for the current year would be in line with market expectatins of £151m as it "proactively" managed inflationary pressures and registration into its puppy and kitchen club continued well ahead of pre-pandemic levels.
CEO Peter Pritchard, who is leaving the business after 11 years, said the group's record performance in 2021/22 had been "noteworthy".
"We are well placed to accelerate our growth in market share," he added.
"The robust backdrop of the UK pet care market, coupled with our clear strategic priorities, proven omnichannel model and strong executive team, mean that I hand over leadership of this great business to Lyssa McGowan with the utmost confidence that Pets at Home will continue to create value for all stakeholders in both the near and longer-term."
Shares at the retailer soared 8.2% to 303.8p as markets opened.
Prepared food supplier Bakkavor has warned further price hikes to offset input cost inflation could hurt its volumes this year as the group continues to recover from the pandemic.
Revenues in the first quarter to 26 March increased 11.5% to £485.4m with growth of 8.7% in the UK to £407.4m, 40.9% in the US to £55.1m and 5.5% in China to £22.9m.
Bakkavor said strong sales momentum in the US was driven by continued volume growth with strategic customers, particularly in fresh meals, while price increases and good volumes helped lift the UK business when compared with a year ago in a period subdued by lockdowns.
"Whilst inflationary headwinds have intensified in the period, successful price recovery, strict focus on cost control and continued efficiency improvements have helped to offset the impact," Bakkavor added.
"Our UK business remains in a strong position, and our scale, category leadership and strong customer relationships underpin the resilience of our business model."
The group said it was working with its customers to mitigate the impact of ongoing inflationary headwinds, while also maintaining strict cost control and enhanching productivity.
In the UK, it warned, further price increases in the market could have some impact on volumes, but its category breadth and strong pipeline of innovation left the business "well placed" to underpin growth.
CEO Agust Gudmundsson said: "We expect the trading environment to remain challenging and for input costs to continue to escalate.
"However, we remain well placed to navigate the ongoing headwinds as our price recovery to date, combined with our continued drive for efficiency improvements and disciplined approach to cost control will help to mitigate the impact. Despite further recent increasing pressure on household budgets, we are highly focused on driving volumes across our categories and further strengthening our customer relationships by bringing innovation to our product ranges.
"We remain confident in our medium-term growth opportunity, both in the UK and internationally."
Shares in Bakkavor dipped 2% to 98p as markets digested its warnings over inflation.
The FTSE 100 started the day up 0.3% to 7,509.69pts.
Alongside Pets at Home and M&S, SSP Group started the day another 5.4% higher to 257.2p, and tobacco giants Imperial Brands and British American Tobacco were up 3.4% to 1,845.5p and 2.2% to 3,566.5p respectively.
Fallers included THG, down 1.7% to 134.5p, Cranswick, down 2.4% to 3,060p, and Deliveroo, down 2.3% to 80.3p.
Yesterday in the City
The FTSE 100 closed down 0.4% to 7,484.35pts yesterday.
Food-to-go specialists Greencore and SSP Group both enjoyed rises as they reported gathering pace in recoveries from the pandemic. SSP soared 7.1% to 252.5p and Greencore rose 2.5% to 110p.
McBride, AG Barr and B&M European Value Retail all registered increases, up 2.6% to 35.2p, 1.8% to 553p and 0.6% to 425.4p respectively.
Cranswick sank 0.8% to 3,134p despite revenues rising to above £2bn for the first time as it called on the government to do more for the beleaguered pork sector.
Food retail shares also fared badly after Kantar revealed the discounters were gaining share as grocery inflation hit a 13-year high. Tesco fell 0.8% to 259.9p, Sainsbury's was down 0.5% to 232.1p, M&S sank 2.3% to 133.4p and Ocado fell 2.4% to 765p.
Other losers included Hellofresh, Deliveroo and Associated British Foods, falling 9.1% to €31.35, 7% to 82.2p and 0.6% to 1,618.7p respectively.