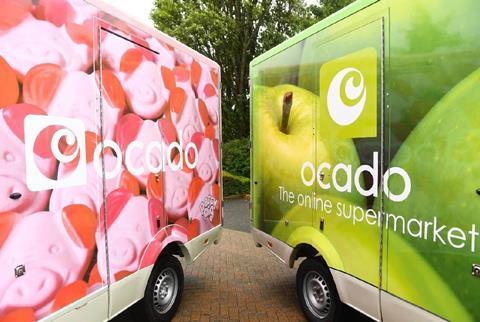 Top story
Ocado's retail revenues soared by 52% in the 13 weeks to August due to sharply rising demand for online grocery in the UK amid the coronavirus crisis.
The UK joint venture between Ocado and M&S posted retail revenues were up to £587.3m in its third quarter to 30 August from £386.4m in the corresponding period last year.
Average orders were up a more modest 9.6% to 345,000 as average order size continues to remain higher the pre-crisis levels, though has begun to normalise to £141.
Orders per week have increased thanks to a combination of strong demand, a phased reopening of the website to new customers, and a normalising of shopping patterns
Ocado switched from Waitrose products to Marks & Spencer on the day after the close of its quarterly trading period, with Ocado saying customers have "responded positively" to the switchover.
Demand for the new range has driven both an increase in the number of products in customer baskets and strong forward demand, it said.
The weighting of M&S products in the average Ocado basket is higher than Waitrose prior to the switchover.
Ocado said that excitement around the launch of M&S products has increased the average basket by around 5 items, with 98% of customers are already shopping M&S.
Ocado Retail's chief executive Melanie Smith commented: "These are transformational times for Ocado Retail with M&S products now exclusively available online at Ocado.com. The successful switchover means that M&S products are available to buy in a weekly shop side by side with branded products for the first time. As a result, we can now offer customers more choice and better value than ever before, wider ranges than any traditional retailer, and thousands of products that are only available online through Ocado.com.
"Our model brings customers the very best customer experience, supported by sustainable economics and respect for the environment and the communities we serve. Ocado's innovative technology solution provides the best service metrics for any online grocery service in the UK. We believe that our proposition is the lowest carbon footprint way to shop in terms of emissions and food waste, with increased hygiene meaning less handling of product in our fulfilment and delivery.
"Our aim is to continue to set the bar as we begin again to welcome new customers who are seeing the benefits of online shopping in ever greater numbers and we remain focused and on track to increase capacity by 40% through to 2021."
Ocado said that, despite the uncertainties over the scale, and duration, of the ongoing impact of social distancing restrictions in the UK, the strong trading performance of Ocado Retail in the first three quarters of the year, combined with the impact of operational leverage in the retail business, suggest a full year positive EBITDA result for Ocado Group of at least £40m.
Ocado shares have gained a further 5.6% this morning to reach 2,486p.
Morning update
Double-digit grocery growth has continued over the past 12 weeks, with take-home grocery sales rose by 10.8%, but growth slowed to 8% in August according to the latest grocery market share figures from Kantar.
While this marks the sector's fifth consecutive period of double-digit growth, sales slowed in August to their slowest rate since April as some aspects of pre-Covid life resumed.
Fewer meals eaten at home due to the popularity of the Eat Out to Help Out scheme meant consumers spent £155 million less in the supermarkets in the four weeks to 6 September compared with July.
Online grocery growth in the most recent four weeks slowed for the second month in a row to 77% as people ventured out more and shielding came to an end for many, with its share of the market dropping back to 12.5% of total sales this month from a peak of 13.5%.
Ocado remained comfortably the fastest growing retailer over the past 12 weeks, with sales up by 41.2% year on year.
Morrions was the strongest performer of the big four, with sales up 12.9%, followed by Tesco (10.5%), Sainsbury's (8%) and Asda (6.3%).
Morrisons' growth outstripped discounters Lidl and Aldi, which were up 11.4% and 10% respectively.
Iceland and Co-op was the fastest growing physical retailers, with sales up 20.8% and 13.4% respectively.
Fraser McKevitt, head of retail and consumer insight at Kantar, commented: "Grocery growth tailed off in August as the Government's Eat Out to Help Out scheme got underway and people were encouraged to return to offices and resume normal routines.
"Diners' confidence built throughout the month and footfall increased during each week of the scheme, culminating in the final bank holiday Monday when dining out accounted for a two and a half times greater share of consumer spend than the pre-Covid average."
"This is not just about people going out to eat in restaurants, August also brought shielding to an end for many vulnerable and at-risk people."
Grocery inflation now stands 2.3% for the 12-week period ending 6 September 2020, with prices rising fastest in markets such as ice cream, colas and fresh bacon while falling in fresh poultry, vegetables and toilet tissues
Meanwhile, Nielsen also found UK supermarket sales finally begin to stabilise at 5.3% year-on-year growth over the four weeks ending 5th September 2020, after an extended period of accelerated growth.
UK supermarkets have continued to experience strong online sales in the last four weeks, with Nielsen data showing that online FMCG sales were up again by 102%. Nielsen data also shows that in the last 12 weeks ending 5th September, supermarkets experienced 10% more online shopping 'trips' than in the 12 weeks leading to early June 2020, when lockdown was lifted.
This had an impact on bricks and mortar sales, which fell by 1.6%. However, sales across the convenience channels continued to grow, and were up 6.4% in the last four weeks ending 5th September. Overall, spend per visit across all formats - including online - was up by 22% compared to the same time last year.
In terms of retailer performance, over the 12 weeks ending 5th September, Iceland (+16.3%) remained the fastest growing retailer, just ahead of Morrisons (+10.4%) and Aldi (+8.7%).
Mike Watkins, Nielsen's UK Head of Retailer and Business Insight, said: "The growth of online shopping continues to put pressure on stores, with grocery spend at bricks and mortar stores falling again, by almost 2%.
"Whilst there are still shoppers trying online for the first time, the growth of online is now being driven by bigger spends and more transactions. This continued growth in online over the last 12 weeks reflects increased capacity as supermarkets respond to shopper demand and continue to improve efficiencies in the delivery network."
Elsewhere this morning, The British Honey Company, the producer of premium British honey, honey-infused spirits and alcohol sanitiser products, has announced that Sir Hugo Swire, non-exec chairman, will be stepping down from the at its AGM on 25 September 2020.
Philip Seers, a current non-exec director, has been elected chairman by the Board with effect from the closure of the AGM on 25 September.
Michael Williams, CEO of British Honey, said: "The company would like to thank Sir Hugo for his contribution to the company since he joined the board. He has been a key figure in the Company's transformation over the last 18 months, which has seen the company grow from a private honey company to a listed spirits company with a general bonded warehouse, hand sanitiser business, an interest in an American distillery and the beginnings of a whisky distillery. We are sad to see Hugo go but understand his reasons and wish him well for the future."
On the markets this morning, the FTSE 100 is up 0.3% to 6,043.9pts so far today.
Along with Ocado, other early risers include its partners Marks & Spencer, up 4.7% to 109.7p, Stock Spirits, up 4.2% to 223.5p, Bakkavor, up 3.4% to 69.3p and WH Smith, up 3.2% to 1,180p.
Fallers so far include Naked Wines, down 1.8% to 435.2p, Nichols, down 1.4% to 1,225p, DS Smith, down 1.3% to 274.3p.
Yesterday in the City
The FTSE 100 started the week edging down 0.1% to 6,026.2pts.
Retailers were amongst the day's fallers, led by Morrisons, down 1.7% to 177.2p and its wholesale partner McColl's Retail Group, down 1.7% to 22.9p.
Also falling were Greggs, down 1.7% to 1,301p, AG Barr, down 1.6% to 373p and Tesco, down 1.5% to 217.4p.
The day's risers included Premier Foods, up 7.7% to 86.6p, while Ocado was up 3.9% ahead of its Q3 trading update this morning to 2,355p.
Also on the up were Pets at Home, up 3.8% to 287p, Compass Group, up 3.1% to 1,313.5p, Science in Sport, up 2.9% to 36p, FeverTree, up 2.8% to 2,087p and Marks & Spencer, up 2.8% to 104.7p.