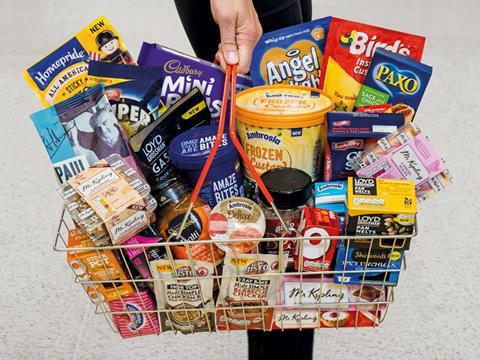 Top story
Premier Foods has raised its profit expectations for the year after "exceptionally" strong first-half results as consumers flocked back to its stable of household brands during the coronavirus pandemic.
The group's revenues soared 15% to £421.5m in the six months to 26 September 2020, with sales for its brands up 18.6%.
Growth slowed in the second quarter, with group revenues up 8.1% and branded rising 11%, as lockdown came to an end and consumers got out the house more, with the Eat Out to Help Out scheme in August diverting attention to restaurants.
Premier has now recorded growth for 13 consecutive quarters, making market share gains in all of its categories during the half as it attracted 1.1 million new consumers.
All the major grocery brands grew in strong double-digit terms during the first half of the year, with Bisto, Batchelors, Oxo, Ambrosia, Sharwood's, McDougall's and Nissin all stand-out performers.
Trading profits in the half jumped 28.7% to £65.8m after taking into account increased marketing spend as Premier put its brands back on television, as well as Covid-related costs. Pre-tax profits increased by £35.5m compared to a year ago to £50.5m.
The strong performance helped the group reduce net debt to £382.8m, down £87.9m on last year's level. The sale of Hovis to private equity firm Endless last week will also help Premier pay down debt after it netted £37m from the proceeds.
Premier expects demand for its brands to continue through the second half, helped by the new lockdown, as well as new product innovation and increased marketing, with six major brands planned to be advertised on TV, including Ambrosia, which will be on air for the first time in many years.
As a result, Premier forecast its trading profits for the year would be ahead of current market expectations.
Chief executive Alex Whitehouse said: "In the first half of the year, demand for our branded product ranges has been exceptional, particularly in our grocery businesses which have helped deliver strong profit growth, accelerated debt reduction and a lowest ever Net debt/EBITDA ratio of 2.3x.
"We have seen many more meal occasions being consumed at home, particularly in the first quarter, followed by a transition towards more normal levels of demand through quarter two.
"During this entire time, we have continued to drive our branded growth model, launching insightful new products and supporting our three biggest brands with above the line advertising. Consequently, we have continued to grow faster than all our categories, increasing market share in each one; a reflection not only of our strong brands but also the amazing performance of our supply chain colleagues to ensure product availability.
"In online, we have grown +112% which is again ahead of channel growth, leading to a market share gain of 260 basis points."
Morning update
A second national lockdown failed to lead to an overwhelming peak in demand at supermarkets in the past month, according the latest data from Kantar.
Take-home sales rose by 9.3% during the 12 weeks to 1 November 2020 and, despite a variety of restrictions coming into force across the country, the most recent four weeks saw a similar of 9.4%.
Growth rates peaked in Wales, where restrictions were tightest, up by 15% in the month.
Fraser McKevitt, head of retail and consumer insight at Kantar, said Welsh shoppers increased their spending by an average of £10 during the week when the 'firebreak' lockdown came into effect.
The following week, online shopping in Wales hit its highest-ever level, accounting for 16.2% of the market.
In Britain as a whole, a record 5.9 million people purchased groceries online in the month of October.
Early evidence suggested consumers in England were confident about getting the essentials during the new lockdown – which started on 5 November – even if the restrictions impinge on festive shopping.
McKevitt said: "While there was some uplift in Wales, the increased spending did not provide any evidence of stockpiling, and initial figures suggest no sign of panic buying in England either.
"But one thing is always front of mind at this time of year – Christmas – and it seems many people sought to get ahead with gift buying before stores closed. Between Monday-Wednesday last week, the three days before additional nationwide restrictions were introduced in England, toy and entertainment stores took more than double their share of pre-Covid footfall, and shoppers rushed to gift shops and fashion retailers."
Iceland continued to benefit from increased demand for frozen food, helping to grow its market share to 2.3%, from 2.1% last year. Overall, the retailer's sales were up by 17.9%.
Ocado was again the fastest-growing retailer, with sales up by 36.1%, increasing its market share to 1.7%. Waitrose meanwhile grew ahead of the market, by 10.6%, and its share rose for the first time since 2017 to 5.1%. Waitrose increased its online sales faster than any other grocer this period.
Morrisons led the big four, growing sales by 11.4%, and expanding its share for the fifth month in a row. It now accounts for 10.2% of sales, helped by its the Best premium own label brand, which grew by 42%.
Sainsbury's sales rose by 7.6% this period and its market share currently sits at 15.3%.
Asda increased sales by 5% this period and it holds a market share of 14.4%. Tesco, which grew by 9.1%, maintained its share at 27% and had success through both physical and online sales.
Lidl's growth accelerated to 12.5%, with market share up to 6.1%, while Aldi's sales rose by 6.6%, and its share fell slightly to 7.8%.
Co-op increased sales by 8.6%, but its market share dipped to 6.4%, while independent retailers accounted for 1.9% of the market, as sales grew by 15.6%.
Growth has moderated at the supermarkets in the past month as another round of panic buying failed to materialise, according to Nielsen.
Sales across the retailers have increased by 6.9% in the four weeks ended 31 October 2020, with a rise of 7.2% during the final week of the month as shoppers stocked up for a second national lockdown.
In the four-week period, Nielsen data showed UK shoppers spent an average of £17.70 per basket on fmcg products in stores and online – 20% more than the same time last year.
However, the number of store visits continue to remain low, down -12% compared to the same period last year as consumers are still limiting unnecessary travel and visits to stores, instead turning to online, which continues to grow rapidly, with sales up 87% in the past four weeks.
Beers, wines and spirits (+15%), frozen food (+16%) and packaged grocery (+11%) remain the fastest-growing categories in October.
In terms of retailer performance over the past 12 weeks, Lidl is still experiencing strong growth (+17%) following the launch of the Lidl Plus loyalty app, as is Waitrose (+8.6%), helped by the increased capacity for online sales. Morrisons (+8%) remains the fastest-growing in the Big Four, and sales at Tesco (+6.2%) have also increased, ahead of Sainsbury (+5.7%) and Asda (+3%).
Looking ahead, Nielsen estimated that UK shoppers are set to spend £2bn more in supermarkets for the full quarter up to 26 December 2020, an all-time record high, and an expected sales growth of 7%, despite the uncertainty.
Mike Watkins, Nielsen's UK head of retailer and business insight, said: "We can see that supermarket sales have experienced moderate growth over the last four weeks, growing a little in the final week in anticipation of another lockdown.
However, UK shoppers' plans for the Christmas period remain in limbo – they are unable to plan when and where they will shop, how much they will spend and of course whether they will be able to spend it with family and friends.
"Assuming that restrictions on travel and get-togethers are relaxed in December, food and drink retailers should then see pent-up demand translated into extra purchasing for the festive season."
Retailers performed impressively in October before the country went into a second lockdown, according to the latest BRC-KPMG index.
On a total basis, sales increased by 4.9% in October, against a decline of 0.3% in October 2019. On a like-for-like basis, excluding temporarily closed sales and including online sales, UK retail sales were up 5.2%.
However, over the three months to October, in-store sales of non-food items declined 9% on a like-for-like and 11.4% on a total basis. But non-food retail sales overall increased by 5.7% on a like-for-like basis and 4% on a total basis in the three months.
Online non-food sales increased by 39% in October, against a growth of 3% in October 2019. Non-food online penetration rate increased from 31.7% in October 2019 to 42.3% this October.
Food sales increased 5.2% like for like and 5.8% total over the three months.
BRC chief executive Helen Dickinson said: "During an incredibly challenging year for the industry, many retailers had finally thought that they were finding their footing. The new lockdown in England will now throw away this progress as we enter the crucial Christmas trading period and we estimate that £2bn of sales per week will be lost this month.
"It is therefore vital that retailers are able to trade from 3rd December and we are asking government to urgently provide clarity about the criteria for reopening and to ensure that affected businesses are supported in the coming months."
IGD chief executive Susan Barratt added that food and grocery sales continued to perform strongly in October, albeit marginally slower than in September.
There was a clear uptick in sales at end of October with retailers benefiting from Halloween falling on a Saturday and shoppers reacting to the impending national lockdown with more than half of shoppers (55%) claiming to have stockpiled over the Halloween weekend.
"A second wave of Covid-19, the three-tier lockdown system in England, rising unemployment and uncertainty about EU exit have all contributed to IGD's Shopper Confidence Index declining for the second month in a row, hitting its lowest level since May," she said.
"Confidence is particularly low among lower affluence groups and shoppers in Wales and the North West. The new national lockdown in England will only impact shopper confidence further so expect savvy shopping tactics to intensify in the run up to Christmas."
The FTSE 100 continued its upward trend (see below) to open 0.4% higher at 6,209pts.
Marston's, Glanbia and SSP Group all made early gains, up 8.9% to 64.1p, 4.3% to €9, and 3.9% to 294.5p respectively.
Early losers continued to be those stocks that had performed best during the pandemic, including Just Eat, down another 2.2% to 8,208p, and Ocado, down 0.8% to 2,264p.
Yesterday in the City
The FTSE 100 had a storming session yesterday to finish well above the 6,000pts mark. Solid gains in the morning on the back on Joe Biden's victory in the US presidential election were transformed in the afternoon after drug company Pfizer gave hopes of a coronavirus vaccine.
London's blue-chip index finished the day 4.9% up to 6,197.73pts, but it had been as high as 6% up during the day.
A number of food stocks that have been hammered earlier this year as the coronavirus pandemic and lockdown played havoc with businesses saw massive growth yesterday.
Upper Crust owner SSP, which was down more than 70% this year, raced up 51% to 282p on the news that the Pfizer vaccine was 90% effective.
WH Smith, which will report its full-year results on Thursday, soared 34% to 1,378.1p.
Greencore, Marston's, Primark owner Associated British Foods and M&S, which have all suffered at the hands of the virus, jumped 28.3% to 116.4p, 21.7% to 58.2p, 18.4% to 1,976.5p and 17.4% to 113p respectively.
Drinks producers Britvic, AG Barr and Nichols, up 10.3% to 817.5p, 6.5% to 495p and 3.3% to 1,110p.
However, food businesses that have benefitted from the virus outbreak and lockdown saw investors take profits to invest elsewhere.
Ocado, which has been one of the big winners from the crisis, plunged 10.9% to 2,298p. Another winner has been B&M European Value Retail, which reports its interims on Thursday, sank 0.5% to 483.9p. Just Eat was also down 8.4% to 8,438p.
Reckitt Benckiser, which makes cleaning products such as Dettol, fell 5.5% to 6,716p.