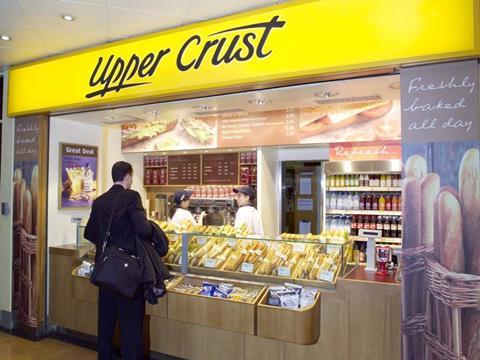 Top story
Travel food specialist SSP Group (SSPG) has increased sales by 13.5% in the first quarter, driven by like-for-like growth, contract wins and global expansion.
For the quarter to 31 December 2017, SSP said it had made "a good start to the new financial year and has made encouraging further progress in rolling out its strategic initiatives".
Total group revenue increased by 13.5% on a constant currency basis, comprising like-for-like sales growth of 2.7%, net contract gains of 8.1%, and the acquisition of TFS, its joint venture in India, adding a further 2.7% to sales.
Total group revenue growth at actual exchange rates was 12.2%.
Like-for-like sales growth in the UK and Continental Europe was in line with expectations, the company stated, driven by the roll out of strategic initiatives and increasing passenger numbers.
North America sales were driven by robust passenger growth, although at a number of airports the impact of changes in airline routes and passenger flows seen in the second half of 2017 has continued into the first quarter.
Rest of the World (including TFS) continued to see "good" like-for-like sales growth, with full-year LFL growth expectations of between 2-3%.
Net contract gains were centred on North America and the Rest of the World. SSP Group said it had an encouraging pipeline of new contracts and had seen a deferral of redevelopments at some airports, meaning net contract gains for the group are expected to be 4% for the full-year period.
SSP Group stated: "The new financial year has started well and the pipeline of new contracts is encouraging. Whilst a degree of uncertainty always exists around passenger numbers in the short term, we continue to be well placed to benefit from the structural growth opportunities in our markets."
Morning update
Privately owned Bacardi has agreed to acquire 100% ownership of Patrón Spirits International AG and its PATRÓN brand, the world's top-selling ultra-premium tequila.
The transaction, which is subject to customary closing conditions, follows the successful relationship the companies have had for nearly a decade since Bacardi's initial acquisition of a significant minority stake in Patrón in 2008.
The deal reflects an enterprise value for Patrón of US$5.1bn and is expected to close in the first half of 2018.
Bacardi said: "Tequila is one of the fastest-growing and most attractive categories in the spirits industry, with Patrón being the clear market leader in the super-premium segment. Super-premium brands continue to experience the fastest growth, and the trend is expected to continue."
"Adding Patrón to the Bacardi portfolio creates a tremendous opportunity for the brand outside of the UnitedStates as Bacardi's international distribution network will help grow Patrón around the world, increasing scale in the U.S. and globally," said Mahesh Madhavan, CEO of Bacardi Limited. "I look forward to working with the talented team at Patrón."
Brewer and pub group Marston's (MARS) has issued a trading update for the 16 week period to 20 January 2018 ahead of the AGM to be held at today.
It said it continued to make progress in the period with growth in both sales and underlying earnings, helped by the acquisition of the Charles Wells Brewing Business in May 2017 and the contribution from the 19 new-build pubs in financial year 2017.
However, snow and icy weather towards the end of the period, both in early December and between Christmas and New Year, caused "some unavoidable disruption" to the business.
Total sales for the period were up 4.9% reflecting the contribution from the estate expansion in 2017. Like-for-like sales in the period, excluding the impact of the two snow-affected weeks, were up 1.1%.
The weather impact on like-for like sales was around 2%, and on an unadjusted basis like-for-like sales were down 0.9% in the period. The profit impact of the severe weather is expected to be £1m.
Marston's said that margins remain in line with expectations and are slightly below last year reflecting cost increases as previously guided. There are no changes to the cost guidance previously provided in November 2017.
Like-for-like sales in its taverns were up 2.6% benefiting from the performance of franchise-style agreements and an improved drinks range.
In brewing, Marston's Beer Company achieved "good" growth in the period to date, with own-brewed volumes up 33%. In addition to the acquisition of Charles Wells Brewing Business it is benefiting from distribution gains achieved in 2017 and a stronger brand portfolio in the premium ale, craft beer and 'world beer' segments of the market.
CEO Ralph Findlay commented: "We are pleased with our progress, which included record total retail sales in our pubs of £4 million on Christmas Day - 5.4% higher than last year. We continue to achieve growth against tough market conditions and are benefiting from investment in both pubs and brewing. We look forward to continuing to provide our customers with a great pub experience and excellent service, as well as delivering value for shareholders, over the year ahead."
Agri-Services group Origin Enterprises has announced it has acquired the Belgian based Pillaert-Mekoson Group, a provider of standard and prescription fertilisers in Belgium and surrounding regions.
The turnover for Pillaert-Mekoson for the 2017 financial year was €35m and maintainable earnings before interest, tax and depreciation/amortisation is circa €1.8m. Under the terms of the transaction, Origin has acquired 100% of Pillaert-Mekoson for an undisclosed sum on a debt free and cash free basis.
Russian food retailer X5 Group has announced preliminary consolidated net retail sales and operational results for the fourth quarter and full year ended 31 December 2017
X5 delivered strong net retail sales growth of 25.5% year-on-year. The increase in net retail sales was driven by a 5.4% gain in like-for-like sales and a 20.1% sales growth contribution from a 27.4% rise in selling space.
LFL traffic growth improved from 2.5% in 2016 to 3.0% in 2017, the highest level since 2009, while the company added 2,934 new stores in 2017, up from 2,167 stores in 2016.
In the fourth quarter, total net retail sales growth remained strong at 23.4% y-o-y, while decelerating slightly mainly due to slowing food price inflation.
X5 Chief Executive Officer Igor Shekhterman commented: "X5 delivered strong growth in 2017 and showed we were able to achieve sustainable performance even in what continues to be a challenging macro environment. Decelerating food CPI has put a damper on retail sales growth throughout the year, with inflation growth reaching its lowest level in Q4. Real disposable income growth remained negative in 2017, and the recovery in consumer confidence slowed towards the end of the year.
"Looking ahead to 2018 and beyond, we remain committed to our core strategic goals and will continue on the path of rapid, efficient and profitable growth, with the aim of sustainably occupying the position of Russia's food retail market leader."
On the markets this morning, the FTSE 100 is back up 0.2% to 7,729.8pts.
Ocado (OCDO) has fallen back 5.1% to 499.9p as some investors indulge in profit taking after yesterday's surge. Also Marston's has dropped 4.9% to 109p after it explained the impact of the cold weather on trading. CARR's Group (CARR) is down 3.6% to 135p, Wynnstay (WYN) is down 2.1% to 465.1p and AG Barr (BAG) is down 2% to 655p.
SSP Group has risen 1.4% to 646p on today's solid trading update. Other risers include Applegreen (APGN), up 1.5% to 528p, Premier Foods (PFD), up 1.2% to 40.6p and McBride (MCB), up 1.1% to 178.7p.
Yesterday in the City
There is little doubt about the major City mover yesterday after Ocado (OCDO) soared by an extraordinary 27.5% to 525.6p on the back of signing its first North American supply deal with Canada's Sobeys.
Despite remaining one of the UK market's most shorted stocks, Ocado has bounced back to a share price level not seen since the early months of 2014 and has risen more than 115% in just the two months since it signed its first full-scale international supply agreement with France's Casino Group.
Unsurprisingly, movement was more muted elsewhere, with the FTSE 100 dipping 0.2% to 7,715.4pts.
The gradual strengthening of the pound – now touching $1.40 for the first time since 2016's Brexit vote – has hit a number of FTSE 100 fmcg names.
Imperial Brands (IMB), eased back 1.4% to 2,974.5p yesterday, Diageo (DGE) fell 1.1% to 2,592p and Unilever (ULVR) fell 0.9% to 4,070p.
Other fallers included SSP Group ahead of its trading update this morning, falling 1.2% to 637p, WH Smith (SMWH) ahead of its Christmas trading update this week, down 1.4% to 2,128p and Britvic (BVIC), down 1% to 812p.
Another stock experiencing yet another share price surge is Fevertree (FEVR), which rose another 2.2% yesterday to 2,437p on the back of continued takeover whispers.
Other risers included Majestic WINE (WINE), up 1.3% to 463.5p, Pets at Home (PETS), up 1.8% to 182p and Marks & Spencer (MKS), up 1.2% to 307.5p.