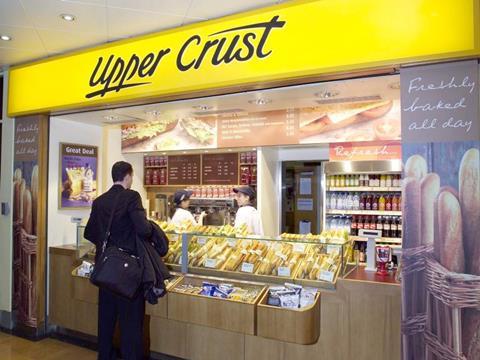 Top story
Trading at travel concession group SSP has improved as sites across Europe continued to reopen, but second-half revenues are still expected to be down by £1.3bn as the pandemic slammed the Upper Crust operator.
SSP said in a pre-close trading update for the six months ending 30 September that revenues would be 86% lower year-on-year, resulting in a reduction of about £1.3bn in sales compared with the same period last year.
However, drastic cost-cutting measures, including rent waivers and thousands of job cuts, meant underlying EBITDA and operating loss would not be as bad as feared, falling broadly in the middle of the ranges set out in the interim results in June (-£120m to £190m EBITDA and -£180m to £250m operating loss) for the second half of the year.
The group said current trading is showing signs of improvement, with weekly sales running 76% below last year, compared with a 95% fall in April and May at the height of the coronavirus lockdown and 90% down in June.
The sales improvement has been driven by a stronger recovery in Continental Europe, where weekly sales are approximately 66% lower year-on-year, compared with the UK, North America and the Rest of the World, where weekly sales remain around 80-85% lower year-on-year.
In the UK, there had also been a recovery in the air sector over the summer as Brits went on holidays as restrictions eased, but capacity was lower and renewed quarantine orders reduced activity, SSP said. The rail sector remained "very weak" during the third quarter, but more recently there has been a slow recovery, driven by a gradual return in commuter travel as some workers return to the office.
Across the group, SSP has now re-opened just more than a third, approximately 1,100, of its units, which is ahead of expectations set at the interim results in June.
CEO Simon Smith said: "Covid-19 continues to have an unprecedented impact on the travel industry and on SSP's businesses in all geographies.
"We have seen some improvement in passenger demand since the start of the crisis and we have reopened units swiftly and profitably in response to this, with over one third of our units now trading. Our model is flexible and we will continue to align unit openings with demand, meeting the needs of our customers whilst managing operating costs and cash flow tightly.
"In the medium-term we expect to see the gradual return of passenger travel to more normalised levels. The actions we are taking to rebuild the business will enable us to emerge fitter and stronger, positioning us to capitalise on future opportunities and delivering long term sustainable growth for the benefit of all our stakeholders."
SSP added it "firmly" believed demand for travel would return and the actions taken since February, would see the group emerge as "a fitter, stronger leader in the sector".
Shares in the group have soared 10% to 198p on the news of the improved trading.
Morning update
Profits at personal care group PZ Cussons have plunged as consumers abandoned beauty products while stuck at home during lockdowns.
Operating profits in the year to 31 May declined 32.9% to £33.4m, resulting from losses in Nigeria, the decline in beauty sales and lower profits in Australia.
However, an "excellent" performance in the UK, driven by a boost to the Carex hand wash brand during the coronavirus pandemic, helped offset the fall in profits.
Revenues at the group, which also owns Imperial Leather and Original Source, fell 2.6% to £587.2m as a result of the Nigerian business and a mixed impact of the Covid crisis on the business.
Despite the mixed performance, PZ Cussons recommended a final dividend of 3.1p a share, making it one of only a few listed companies to reward shareholders during the pandemic.
In a separate first-quarter trading update, the group reported a 23% jump in revenues as demand remained high for hygiene brands. Sales soared 49% to £61.5m in the Europe and Americas division, with the UK continuing to deliver a strong performance and beauty making a continued recovery. Carex remained the driver of growth in the first quarter and has increased its UK market share in the hand sanitizer category to about 40%.
Despite the renewed momentum in the quarter, PZ Cussons warned it expected volatility and risk to continue. However, the group planned to increase investment in its brands and capabilities as it prepared for a multi-year turnaround of the business.
Chairman Caroline Silver said: "There is no doubt that this was one of the most challenging periods that the company has faced across its long history.
"Having reviewed our strategy last year, we expected there to be a period of transition and change as we moved to reset our business model and create the conditions to improve performance. Onto this, however, was added the immense challenges of responding to the global Covid-19 pandemic, which fully encompassed the final quarter of our financial year.
"We could not be more proud of the way that all our people responded, and on behalf of the board I thank them for their incredible hard work, commitment and efforts.
"Overall, it was a mixed year in terms of performance. We have taken key steps towards returning the group to growth, including welcoming Jonathan Myers, our new chief executive officer on 1 May 2020. We have made progress against the strategy that we set out last year, but there is more to do. We have shown that we can be swift to see opportunities, can move fast and are willing and able to take action.
"We saw extraordinary outperformance for Carex in the final quarter tempered with very difficult conditions in beauty, both as a result of the coronavirus pandemic. Indonesia continued to perform well but results in Nigeria remained very disappointing."
Annual revenues at in the Europe & the Americas region grew 6.2% to £214.5m thanks to "an outstanding set of results" in the UK on the back of the performance of the Carex brand.
However, Imperial Leather and Original Source declined in the first half reflecting consumer uncertainty and lower footfall in the UK and were impacted in the final quarter by the contraction in the shower category and the focus of the business to produce Carex given limitations in its supply chain as a result of the pandemic.
Despite the payment of a dividend, shares in PZ Cussons opened 3% lower this morning at 208.7p.
Revenues at Real Good Food sank by 28% year on year to £27m in the five months to the end of August as the coronavirus crisis continued to hurt food-on-the-go manufacturers.
Pre-tax losses also widened from £1.9m a year ago to £3.8m.
In a trading statement ahead of today's AGM, the group said declines had begun to show signs of improving, with sales in August only down 7% as Covid restrictions eased.
Sales at the Brighter Foods business were down 32% in the five-month period, but it remained profitable. The food manufacturer continued to be affected by people working from home and the lack of demand for food-to-go. Real Good Food said it expected sales at the Brighter Foods business to be positive in the second half of the year and would be back to near full capacity by the year end if there were no new Covid setback. The business had seen an improvement with new orders being taken from customers in the slimming and weight control markets as clubs, which are classified as "Organized Events", have restarted.
The Cake Decorations division saw sales down 25% to the end of August as the main impact of the coronavirus crisis was felt in the UK wholesale market, but retail sales held up "reasonably well". Demand is recovering and the board expected sales for the remainder of the year to be at similar levels to last year. Progress continued to be made within Renshaw to become less dependent on the maturing sugar paste and marzipan markets, with new product launches made with several major UK retailers, including Waitrose and Marks & Spencer.
Real Good Food chairman Mike Holt said: "Whilst our businesses have been affected by the ongoing Covid-19 crisis, both Brighter Foods and Cake Decorations are experiencing recoveries in their respective markets. Despite the outlook remaining uncertain pro tem, it is encouraging that both businesses have gained new customers and agreed new product launches."
Revenues at agri-services group Origin Enterprises decreased 11.6% to €1.6bn in the year to 31 July, with operating profits down 46.4% to €44.1m.
Chief executive Sean Coyle said: "FY20 was a challenging year for the group, with prolonged unseasonal weather conditions, particularly in the UK and Ireland, reducing demand for agronomy services and crop input investment spend.
"Covid-19 presented further operational challenges for the business, however thanks to the collective efforts of all of our people and our contingency actions we continued to serve our customers, delivering solid profitability and strong operating cashflow."
The FTSE 100 continued to make a recovery this morning after coronavirus restrictions from Boris Johnson last night weren't as strict as feared. The index is up 1.9% to 5,937.26pts so far this morning.
Early gainers included Marston's, up another 5% to 43.3p, Associated British Foods, up 1.95 to 1,891.5p, and Coca-Cola HBC, up 2.8% to 1,991.5p.
Early losers include Naked Wines, which is down 1.2% to 431p, and Ocado, down 0.5% to 2,825p.
Yesterday in the City
The FTSE 100 managed to keep it's head above water yesterday after the heavy losses on Monday. The blue-chip index closed the day 0.4% higher at 5,829.46pts.
Shares in AG Barr fizzed 15.4% higher to 430p after it reported half-year results showing a strong balance sheet and a vastly improved cash position. Investors sent the stock higher despite revenues and profits in the half falling as the coronavirus lockdown hit hospitality sales.
Marston's clawed back some of Monday's 15% fall in value to end the day 5.4% higher at 41.2p.
British American Tobacco climbed 4.1% and Imperial Brands increased 3.2% following an an upgrade at RBC Capital Markets.
Other shares in the black yesterday included Just Eat Takeaway, up 2.2% to 8,728p, and Ocado, up 1.3% to 2,839p, as investors sought safety ahead of any potential further restrictive Covid-19 measures.
The big losers in food and drink yesterday included Applegreen, down 4.6% to 310p, Greggs, down 3.2% to 1,119p, and PayPoint, down 2.5% to 590p.