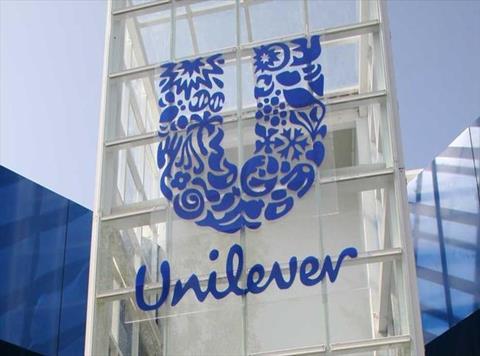 Top story
Unilever has started the year on the front foot, posting organic growth of 5.7% helped by the lapping strict lockdowns in key emerging markets.
The consumer giant's underlying sales growth of 5.7% was driven by volume growth of 4.7% and 1% from price increases.
Emerging markets underpinned the growth, with sales up 9.4% driven by driven by strong double-digit growth in China and India following strict lockdowns in corresponding period in 2020.
Developed markets grew 0.8%, with mid-single digit growth in North America offset by a decline in Europe, where volumes were impacted by lock-downs and we began to lap higher demand for food and hygiene products.
E-commerce continued to perform strongly, with underlying sales growth of 66%, and representing 11% of turnover.
Headline trnover decreased 0.9% in the quarter to €12.3bn due to a negative 8% impact from currencies. Acquisitions net of disposals, including acquired functional nutrition brands Horlicks, Liquid IV and SmartyPants Vitamins, had a positive impact of 1.9%.
Its foods & refreshment division saw strong underlying sales growth of 9.8%, with 7.3% from volume and 2.3% from pricing.
Out of home ice cream returned to growth, with strong performance in emerging markets offsetting declines in Europe due to ongoing lockdown restrictions.
Despite in-home foods seeing a decline in March, as it lapped a spike in demand in the prior year, sales in the quarter were up mid-single digit as consumers continued to eat more at home due to restricted living conditions.
Price growth of 2.3% was led by tea, as it increased prices in India in response to significant commodity inflation.
Beauty & personal care underlying sales grew 2.3%, with 1.5% from volume and 0.8% from pricing, as skin cleansing grew mid-single digits but deodorants declined.
Home care underlying sales grew 5.9%, with 6.5% from volume and negative price of 0.6%, as fabric cleaning and home and hygiene grew mid-single digit.
CEO Alan Jope commented: "Unilever has made a good start to the year. Our focus on operational excellence, innovation, and purposeful brands is continuing to strengthen competitiveness and has delivered underlying sales growth of 5.7% for the quarter.
"We are driving the evolution of our portfolio, with strong growth in Prestige Beauty and Functional Nutrition. The operational separation of our Tea business is on track. We are also making good progress in creating a new unit, Elida Beauty, comprising a number of our smaller beauty and personal care brands."
For the rest of 2021, Unilever expects to deliver underlying sales growth within its multi-year framework of 3-5%, with the first half at around the top of this range.
Underlying operating margin is expected to increase slightly in the full year, following a decline in the first half which is driven by a number of factors, including Covid-19 causing additional supply chain costs and a negative margin mix. Additionally, commodity and freight costs have increased further and the company said it will be lapping lower marketing spend in the first half of last year.
Unilever also announced it will commence a share buyback programme of up to €3bn in May, to be completed by the end of the year. This decision, it said, "reflects our strong cash flow delivery and balance sheet position, and is in line with our capital allocation framework".
Unilever shares are up 2.1% to 4,190p so far this morning.
Morning update
As the markets closed last night, WH Smith announced its first half results which have been savaged by the impact of the coronavirus.
For the six months to 28 February, the travel and high street retail chain saw a 44% slump in revenues to £420 – with travel down 65% and high street down 14%.
Group loss before take was £38m compared toa £63m profit in the comparable period in 2020, as its travel business made a trading loss of £31m.
Its high street division made a trading profit of £33m to take group profit from trading operatings to £2m, down from £97m last year. However, it suffered non-underlying costs of £21m, largely related to £18m of Covid-19 related costs.
WH Smith said the performance was "encouraging, despite the continued impact from Covid-19".
It said it saw improving trends, an encouraging recovery in North America, profitable performance on the high street and was well positioned as travel markets recover.
CEO Carl Cowling commented: "Thanks to the outstanding work of all our colleagues across the business, the Group has adapted well to the evolving trading environment and we are in a strong position as our markets begin to recover.
"In Travel, while many of our stores have remained closed, it is a credit to the team that we have kept up the momentum, focusing on our plan to increase average transaction value and spend per passenger while continuing to win new business. As a result, we are now operationally stronger than prior to the pandemic.
"In a difficult retail environment, our High Street business has generated a resilient performance. At the same time, we are pleased that our online businesses, including funkypigeon.com, have delivered a record performance.
"We have positioned the Group well. We are financially strong as a result of the actions we have taken, and the new financing arrangements also announced today will put us in an even stronger position to capitalise on the growth of our key markets and take advantage of the many exciting opportunities ahead."
Also this morning, WH Smith has successfully placed £327m of convertible bonds, due 2026.
The initial conversion price is set at £24.99, representing a premium of 40% above the reference share price of £17.85.
FTSE 100 packaging giant DS Smith has issued a pre-close trading update for its financial year ending 30 April 2021.
It said it continues to benefit from accelerating consumer trends in online shopping and the drive for a more environmentally conscious life.
Trading in the second half of the year has continued to build on positive trends through all parts of the business in the UK, Europe and the US.
Higher sales volumes, initial price recovery and an enhanced performance from its US business have been better than expected. While input costs have increased materially in the second half, the group's financial performance for the full year ended 30 April 2021 is anticipated to be line with expectations.
Corrugated box volumes have grown progressively throughout the financial year with the second half expected to achieve a volume increase in excess of 7% over the comparative period last year.
Growth in e-commerce continues to be "excellent" and the roll out of our new digital platform for ordering "is going well".
Following the successful sale of its plastics division last year, this is the company's first full year as a pure fibre-based business focused on sustainable packaging.
CEO Miles Roberts commented: "I am pleased to report continued positive momentum across the business. I am particularly proud that throughout the challenges of the pandemic, our colleagues have responded magnificently, keeping all of our operations open and maintaining the highest standards in service and quality for our customers."
Sausage skin maker Devro has issued a trading statement ahead of its AGM later today.
It said first quarter edible collagen volumes increased 4.6% compared to the prior year driven by continued good underlying momentum and execution of growth initiatives.
Emerging markets were up 15% led by strong growth in China, South East Asia and Latin America. Mature markets were flat on the prior year, an improvement on the trends seen in 2020. Japan and North America both delivered strong growth but this was offset by lower demand in the UK & Ireland which had benefitted from elevated retail volumes in March 2020 as the pandemic took hold.
The group said it is "encouraged by the good volume growth performance in Q1". However, while it expects this trend to continue, the company remains "mindful of the uncertainties arising from the ongoing COVID-19 pandemic and likely foreign exchange headwinds".
As a result, its expectations for 2021 remain unchanged.
On the markets this morning, the FTSE 100 is back over 7,000pts having jumped 0.6% so far this morning to 7,005.8pts.
Risers include Devro, up 1.8% to 198.1p, Science in Sport, up 1.6% to 64p and Deliveroo, up 1.5% to 259.7p.
Fallers so far today include WH Smith, dwn 3.2% to 1,823p, Nichols, down 1.4% to 1,409.4p and Greencore, down 1.1% to 153.9p.
Yesterday in the City
Sainsbury's ended the day down 2.9% at 235p after underlying pre-tax profits slumped 39% to £356m last year amid £485m of Covid-related costs and more than £600m of restructuring charges for its Argos transformation programme.
The FTSE 100 had a better day, climbing 0.3% to 6,963.6pts.
The day's risers included Deliveroo, up 5.7% to 255.8p, Wynnstay, up 2.7% to 500p, C&C Group, up 2.1% to 287.8p, McColl's Retail Group, up 2% to 34.1p, AG Barr, up 1.8% to 512p and Nichols, up 1.4% to 1,430p.
Other fallers included THG, down 2.7% to 631.5p, Glanbia, down 2.3% to €12.16, Morrisons, down 2.3% to 172.1p, PZ Cussons, down 2.1% to 261p, Bakkavor, down 1.9% to 134p, Greggs, down 1.7% to 2,297p and Just Eat Takeaway.com, down 1.5% to 7,600p.