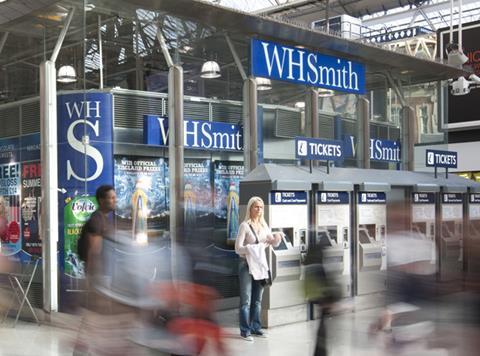 Top story
Travel retailer WH Smith (SMWH) has warned the outbreak of the Covid-19 virus will hit its annual sales by up to £130m and its bottom line by up to £40m.
Updating the market on current trading, WH Smith said this morning that for the first half of the year to 29 February 2020, group total revenue was up 7% with like-for-like revenue down 1%.
Total revenue in travel was up 19% with LFL revenue up 2%. In High Street, total revenue was down 5% with LFL revenue down 4%.
As a result, the group is confident that underlying profit before tax for the first half, which will be reported on 22 April 2020, will be in line with market expectations.
However, its second half will be significantly affected by the outbreak of the global coronavirus.
In recent weeks its Asia Pacific business, which accounts for approximately 5% of Travel's revenue, has seen a "significant impact" and the group has started to see a material reduction in passenger numbers at airports outside of Asia Pacific in the UK (approximately 60% of Travel's revenue), the US (approximately 25% of Travel's revenue) and in Europe over the past two weeks.
In light of this disruption, in the second half it expects UK Travel revenues to be down approximately 15% on expectations which includes airports down 35% in March and April. On the same basis, including significant reductions in March and April, second half revenue in the US is expected to be approximately 20% lower than our expectations. The rest of its International business is also expected to be approximately 20% lower.
While the company is currently not seeing a significant impact on its High Street business, it recognises that Covid-19 could result in reduced high street footfall.
As a result, WH Smith currently estimates an adverse impact in the financial year ending 31 August 2020 of between £100m and £130m on revenue and between £30m and £40m on underlying profit before tax.
"WH Smith is a resilient business with a strong balance sheet, substantial cash liquidity and strong cashflow. The group has a strong management team in place and has consistently demonstrated that it can adapt and respond quickly to changing market conditions."
"Over the longer term, the Board remains confident in the strategy and believes the group is well positioned to benefit from the normalisation and growth of the global travel market."
WH Smith shares have collapsed 13.7% to 1,371p on the news.
Morning update
Agriculture and engineering company Carr's Group (CARR) has issued a profits warning ahead of its interim results for the 26-week period ended 29 February 2020.
Since the last trading update on 7 January 2020, conditions in both UK and US agricultural markets have "remained challenging" which, combined with the continued mild weather, has meant that volumes and margins for feed and supplements are significantly behind management's expectations.
Cost control measures implemented in the first half have only partially mitigated this adverse impact, it said.
Also its engineering arm started the year slowly, though a strong new order pipeline, particularly in global robotics, had been expected to more than offset this over the remaining three quarters.
Carr's said that as a result of the continuing challenging agricultural environment, both in the UK and overseas, together with a delay to engineering contracts in Asia, the board anticipates the Group's performance for the current financial year to be "significantly" below its expectations.
Carr's said it remains mindful of the significant uncertainty which remains in agricultural markets. It is, therefore, in the process of implementing further cost reduction measures which should better position both divisions beyond the current financial year.
The Company will provide a further update on trading with its interim results on 15 April 2020.
C&C Group (CCR) has announced a trading update for the 12 months ended 29 February 2020, with its bottom line expected to be marginally ahead of current market estimates.
The group will post adjusted earnings per share growth of above 10% is in line with the group's stated guidance and follows prior year double-digit EPS growth.
Delivery of its brand-led distribution model progressed to plan during the year, with Matthew Clark and Bibendum reporting blended operating margins within the stated range of guidance for this time following acquisition. These businesses continue to perform well against key financial metrics and performance targets, with identified synergy benefits being realised.
Meanwhile, the process to appoint a new CEO is progressing, with global executive search firm Spencer Stuart formally engaged.
C&C reaffirmed its medium-term guidance of mid to high single-digit EPS growth. This guidance assumes no material or prolonged impact from COVID-19, which it is "monitoring closely".
On the markets this morning, the FTSE has plunged 6.2% to 5,513.6pts as the coronavirus continues to spread and Donald Trump bans travel from mainland Europe.
There are huge share price falls almost across the board.
Carr's Group is down 33.5% this morning to 92.5p, while C&C Group is down a more modeset 4.2% to 265.5p.
Other major fallers include SSP Group (SSPG), down 11.3% to 368.5p, Glanbia (GLB), down 9.9% to €9.01, Compass Group (CPG), down 8.1% to 1,253.5p, Premier Foods (PFD), down 7.5% to 25.5p and Greggs (GRG), down 7.4% to 1,829p.
Amongst the carnage, McColl's is up 4.2% to 25p.
Yesterday in the City
The FTSE 100 slid a further 1.4% to 5,876.5pts as the Bank of England rate cut and giveaway budget did little to arrest wider concerns around the spread of the coronavirus.
Tesco (TSCO) was a significant FTSE 100 faller, dropping 4.1% to 232.1p, while Sainsbury's (SBRY) dropped 3.6% to 191.5p, though conversely Morrisons (MRW) ended the day edging up 0.2% to 176.9p.
Other big fallers included Coca-Cola HBC (CCH), down another 8.4% to 1,981.5p, Britvic (BVIC), down 6.6% to 767p, FeverTree (FEVR), down 6.5% to 1,080p, Greggs (GRG), down 6.5% to 1,974p, Marston's (MARS), down 5.5% to 70.8p, Compass Group (CPG), down 5.2% to 1,364p and Marks & Spencer (MKS), down 4.4% to 129p.
There were some risers yesterday despite the wider market slump, with Domino's Pizza Group up 5.2% to 324.5p, Bakkavor up 4.1% to 91.4p and Hilton Food Group (HFG), up 3.9% to 1,002p.
Other risers included Nichols (NICL), up 3.6% to 1,370p and Naked Wines (WINE), up 2.1% to 223p.