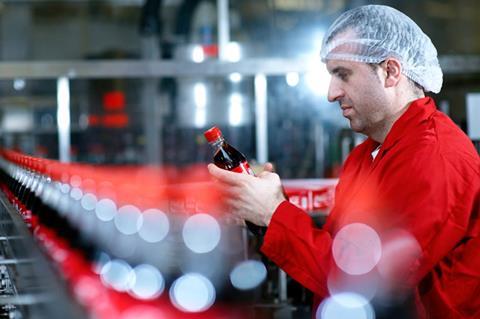 Coca-Cola HBC (CCH) is one of the day's biggest fallers on the FTSE 100 after posting a sharp fall in fourth quarter profits as a result of currency headwinds and challenging conditions in its Russian and Greek markets.
Its shares – which are down more than 27% over the past 12 months – have tumbled another 2.3% to 1,153p so far today.
Net profit at the Coke bottler fell by 11.4% to €30.4m in the final three months of 2014, compared to the same period a year earlier, as favourable input costs from low sugar and oil prices failed to offset declining volumes and the higher foreign currency impact, which exceeded the group's expectations by €15m.
However, volumes increased by 0.8% to 485 million unit cases in the quarter, reducing the rate of decline for the year to 2.8% (2bn cases), as Coca-Cola HBC recorded good performances in Nigeria, Poland and Austria.
The jump in volumes toward the end of the year was not enough to stop net revenue decreasing by 4.1% in the quarter to €1.51bn and 5.3% in the full year to €6.51bn.
Coca-Cola HBC distributes Coke products in 27 countries in Europe, as well as Nigeria. Its biggest market, Russia, has seen a slowdown in demand for Coke thanks to a stagnating economy and plummeting consumer confidence, with volume growth slowing from 5% in 2013 to 1% last year.
In Greece, another key market, sales volume jumped 2% in 2014, climbing for the first time since 2008, but the group remained cautious amid a fragile economic environment and challenging trading conditions.
"The volatile environment seen in 2014 has continued into 2015, creating varying dynamics in the business," Coca-Cola HBC said as it looked ahead. "We are encouraged by the macroeconomic outlook in our established and developing markets, which are expected to benefit to some degree from quantitative easing in the eurozone and the lower oil price.
"We expect volumes to stabilise in these markets, supporting operational leverage and enhancing country mix. In the emerging markets, Russia and Ukraine are expected to continue to face continued difficult trading conditions, whereas our business in Nigeria has all the right ingredients for further growth."