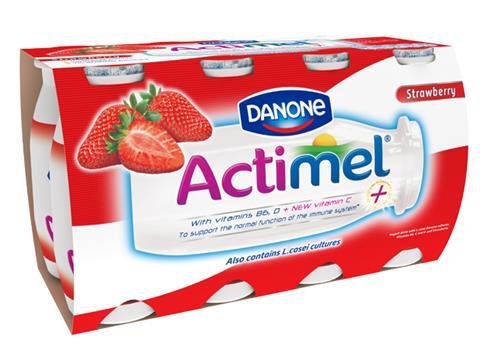 Dairy producer Danone has forecast slower-than-expected organic sales growth for the year ahead as political and economic turbulence in Europe shows no signs of abating.
The company, which makes Actimel and Activia yoghurt, Evian water and baby formula, made the warning as it posted a mix set of full-year results.
2014 was the first year in which Danone reported negative volume growth (-1.5%) and the fifth consecutive year of margin declines (down 60 basis points to 12.6%), dragging operating profit from €2.81bn to €2.66bn.
Broker Bernstein said this went some way to explaining why the group's stock had continued to lag behind its peers. Andrew Wood, an analyst at the firm, added that Danone's 2015 like-for-like sales guidance of no more than 5% was "not as positive" as he had hoped, coming in at the bottom end of the expected range. Forecasts of only a "slight improvement" in operating margin were also a cause for worry, coming as it does current low levels and with major falls in milk commodity costs.
Danone chairman Franck Riboud said: "2014 was a year of political and economic turbulences, not to mention severe volatility – a taste of what awaits us in the years ahead." And CEO Emmanuel Faber added that he expected "ongoing difficult and unstable environment."
Like-for-like sales growth for 2014 of 4.7% to €21.3bn was in line with analysts' expectations, but on a reported basis revenues fell back 0.7% thanks to the negative impact of currency fluctuations, with marked decline in the Russian rouble, Argentine peso and the Indonesian rupiah.
However, sales in the fourth quarter jumped by a healthy 7.5% on a like-for-like basis, albeit benefitting from easy comparatives a year ago, driven by a 28.1% rise in its baby formula division and a 12.3% increase for the water arm.
The fresh dairy arm reported a 1% dip in revenues in the final three months of the year as volumes plunged 7.8%. Danone said it reflected the division's "more selective" approach to promotions and the streamlining of some product lines.
Andrew Wood at Bernstein said the fourth quarter like-for-like result were strong (just ahead of its estimates of 7.4% and market consensus of 7%), but added the volume/price components were "very worrisome."
His expectation of a slightly negative stock reaction today is currently proving to be slightly off the mark as Dannone's share price rallied over lunch to sit 0.4% up at €59.4 after falling almost 2% in the early going.
Fundamentals
| Year Ending | Revenue (€ m) | Pre-tax (€ m) | EPS | P/E | PEG | EPS Grth. | Div | Yield |
| --- | --- | --- | --- | --- | --- | --- | --- | --- |
| 31-Dec-09 | 14,982.00 | 1,945.00 | 250.00¢ | 17.1 | n/a | -0% | 120.00¢ | 2.8% |
| 31-Dec-10 | 17,010.00 | 2,618.00 | 272.00¢ | 17.3 | 1.9 | +9% | 130.00¢ | 2.8% |
| 31-Dec-11 | 19,318.00 | 2,481.00 | 290.00¢ | 16.7 | 2.4 | +7% | 139.00¢ | 2.9% |
| 31-Dec-12 | 20,869.00 | 2,499.00 | 303.00¢ | 16.5 | 4.1 | +4% | 145.00¢ | 2.9% |
| 31-Dec-13 | 21,298.00 | 2,154.00 | 279.00¢ | 18.8 | n/a | -8% | 145.00¢ | 2.8% |