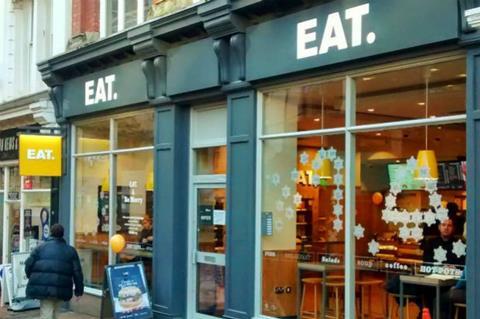 Food-to-go chain Eat returned to profitability in the year ahead of its sale to rival Pret a Manger.
The sandwich retailer posted pre-tax profits of £418k for the year to June 2019, recovering from a £7.1m loss the prior year.
An expansion in Eat's franchise business, with income growing nearly 50%, a consolidation of the company's shop portfolio and NPD were cited as the main reasons behind the return to profitability.
Sales, however, slumped 5% to £90.2m following the closure of some non-core or unprofitable stores during the year.
On a like-for-like basis revenues were 3.3% higher, marking 17 consecutive months of growth, with the chain hailing a successful rollout of its Smart Eat shop concept, which has hot self-service options to improve speed of service and delivery.
Looking forward, Eat, which in 2019 was sold to rival Pret a Manger for an undisclosed amount, said like-for-like momentum continued.
Pret has pledged to convert as many Eat stores as possible into Veggie Prets to boost its plant-based offer.
So far, Pret owns seven Veggie stores in London and Manchester, of which three were previously Eat shops. A further three conversions are planned for early 2020, a spokeswoman told The Grocer.
"The landscape will look different in the future and the people on the journey may change, but I always want all our stakeholders to remember how they made Eat as great as it is today," said Eat MD Mike Rainer.
"We still have a journey ahead of us to trade strongly, support our shops and ensure we maintain our positive and outstanding brand reputation."