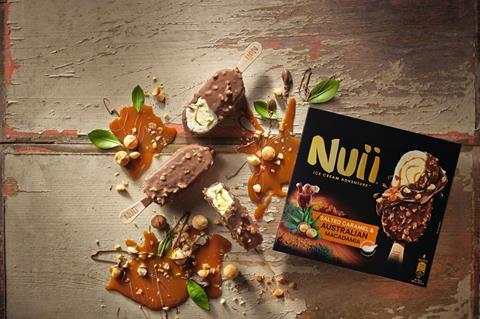 Froneri's underlying annual profits jumped 62% last year as the ice cream giant's sales were boosted by the summer heatwave hitting Europe last year.
The brand behind Fab, Oreo Ice Cream and Mövenpick said it had seen "strong growth" in 2018 with profitability beating expectations.
The joint venture between PAI Partners and Nestlé, formed in 2016 after the combination of R&R Ice Cream and Nestlé's frozen food business, added that its post-merger integration is ahead of plan, with cost synergies being realised across the business.
The supplier posted full year operating profits of €242.4m (£217.2m), up from €149.4m a year ago. Including exceptional items and finance expenses, the group's pre-tax loss amounted to €155.7m, an improvement on last year's €182.1m.
Froneri booked a €180.8m one-off charge mainly related to integration and restructuring expenses following the merger, including costs for the closure of factories in France and Bulgaria.
Total group sales rose to €2.6bn from €2.5bn as all the company's brands gained market share.
This 3.6% sales increase was driven by the impact of the "very good summer weather" pushing demand for ice creams and lollies and further launches in international markets, including Egypt and Russia.
Around 80% of the total turnover was generated in Europe with the remaining 20% in the rest of the world, with Australia as the main RoW growth driver.
Froneri's CEO Ibrahim Najafi told The Grocer he was "delighted" with the business' overall performance.
"There is always more to do but we are proud of what we have achieved so far and excited about what the future holds," Najafi added.
Looking at the current year, the CEO described market conditions as "a little tougher in Europe" but reiterated confidence in the business and said he expects "the current European heat wave" to help.
Going forward, the company's focus remains on optimising operations and completing integration within the business, including that of recently-acquired Tip Top. Froneri snapped up the New Zealand brand from Fronterra in May, in a deal valued £197m.
With regards to Brexit and the mounting possibility of a no-deal, UK-headquartered Froneri said it has put in place plans to mitigate the potential disruption of an EU exit to its operations, despite the "inherent uncertainties created by the inability of the UK Government to agree a withdrawal deal".
"Like any business we have contingency plans in place for our UK operations, but our broad geographical footprint stands us in good stead to be resilient to any macro-economic impacts," Najafi concluded.