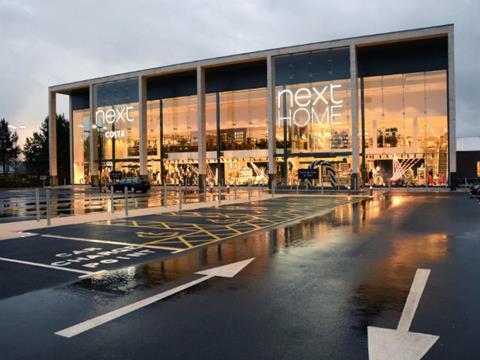 Top story
Retail bellwether Next (NXT) has posted solid growth in the festive period, though in-store sales continued to fall as customers shifted to online.
In the first retail Christmas trading update of the New Year, Next said full price sales in the two months to 28 December rose 5.2%, which was 1.1% ahead of its internal forecast.
Physical retail sales of full price items fell 3.9% in the period, but online sales were up 15.3% in the weeks between 27 October and 28 December.
Year to date, full price sales are up 3.9% on last year
Looking ahead, initial guidance for the year ending January 2021 is for full price sales to be up 3%, profit up 1%, EPS growth of 3.5%
As such, Next increased its full year profit guidance by £2m to £727m. This would represent an increase of 0.6% on last year and earnings per share growth of 5.4%
However, stock in the chain's end-of-season Sale (including the stock put into its Black Friday event) was down 2.9% on last year and clearance rates to date have been slightly lower than our expectations.
Next shares have opened up 0.3% to 6,978p in early trading.
Morning update
British American Tobacco (BATS) has put out a statement welcoming the US FDA's update on its regulatory response to vaping products.
BAT said it welcomed the FDA's "acknowledgement that a properly regulated vapour category continues to provide a credible alternative to smoking, whilst also highlighting the important issue of preventing the access and appeal of vapour products to youth".
It said that, following a significant period of disruption and uncertainty, this regulatory clarity is a welcome step towards returning the US vapour market to stability.
CEO Jack Bowles noted: "Yesterday's announcement takes us a step closer to a predictable regulatory environment in a key marketplace, but focus must now shift to enforcement to ensure vapour market regulations are effective.
"We have long said it is not the marketing of these products per se that is the concern, it is the irresponsible marketing of them that should be robustly addressed. For us, smart regulatory frameworks partnered with responsible marketing and appropriate enforcement will ensure the sustainability of adult consumer choice across all categories."
BAT note that the guidance is clear that flavours can return to the market place once they have been cleared through the PMTA process.
Bowles continued: "Millions of adult tobacco consumers are looking for an alternative to cigarettes and it's important to remember that properly regulated flavours can play an important role in the choice of adult tobacco consumers to transition to vapour products as an alternative to cigarettes."
"Our US subsidiary, RAI Group, has already submitted one brand PMTA for VUSE Solo and is well positioned to submit applications for the remaining VUSE portfolio ahead of the deadline of May 2020. We are confident that, as required by the PMTA process, all VUSE products will be shown to be appropriate for the protection of public health."
BAT said it has long argued for sustainable regulatory frameworks for its new category products.
Bowles concluded: "We will continue to work with the US FDA throughout the implementation of this new regulatory framework to make sure consumers have access to quality-assured products whilst doing our utmost to ensure that vaping remains positioned as a credible option for smokers looking for an alternative to tobacco."
BAT shares are up 0.3% to 3,275p on the news.
On the markets this morning, the FTSE 100 has fallen back 0.5% to 7,568.6pts so far this morning on rising tensions between the US and Iran.
The few early risers include Imperial Brands (IMB), up 0.6% to 1,886.6p, Tate & Lyle (TATE), up 0.5% to 772.4p and FeverTree (FEVR), up 0.3% to 2,097p.
Fallers include PZ Cussons (PZC), down 1.9% to 203.5p, C&C Group (CCR), down 1.8% to 403p, DS Smith (SMDS), down 1.7% to 379.9p and Tesco (TSCO), down 1.1% to 252.9p.
Yesterday in the City
The FTSE 100 started the week on the front foot, kicking off the New Year by rising 0.8% to 7,604.3pts to hit its highest point since the summer of 2018.
Greggs (GRG) was up 3.4% to 2,376p as it launch a vegan stake bake product as it continues to increase vegan options across its menu.
Other risers included Bakkavor, up 4.4% to 145.8p, CAKE Box, up 3.5% to 173.5p, Applegreen (APGN), up 3.3% to 467.5p and Pets at Home, up 2.7% to 287p.
Also on the up were Hotel Chocolat (HOTC), up 2.3% to 455p, Just Eat (JE), up 2.1% to 852.4p, Cranswick (CWK), up 2% to 3,460p, Marston's (MARS), up 1.9% to 129.6p and SSP Group (SSPG), up 1.9% to 662p.
Yesterday's fallers included Nichols (NICL), down 3.3% to 1,525p, Devro (DVO), down 2.6% to 173.8p, Ocado (OCDO), down 1.5% to 1,259.5p and B&M European Value Retail (BME), down 1% to 405.5p.