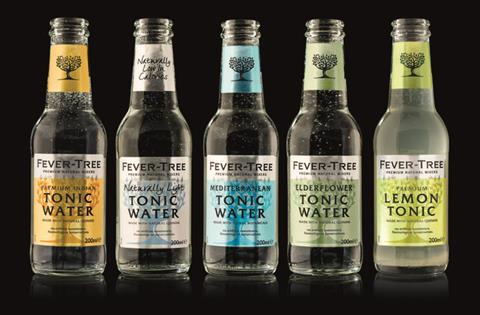 Shares in Fever-Tree (FEVR) have leapt 7% in morning trading after it reported booming sales over the second half of the year resulting in a full year earnings that are "comfortably ahead of expectations".
The premium mixer company's shares were up 7% to 626.8p this morning and reached as high as 635p in morning trading – just below its all-time share price high of 638.5p hit on 12 January.
Fever Tree was driven higher by growth of 77% in the second half of the year, putting expected revenues for 2015 at £59.2m. This is 71% higher than the growth experienced in the full year 2014.
Sales in the UK performed "exceptionally well" in the second half and full year revenue is expected to be 84% ahead of 2014.
"Sales performance has been strong in both the on-trade and off-trade channels, with notable growth achieved over the Christmas period against strong comparatives from 2014," the company stated.
US full-year revenue is expected to be circa 65% ahead of 2014, while in the rest of the world sales are expected to be 50% up on 2014.
"Given the strong sales in the final two months of the year, the board anticipates that the outcome for the full year will be comfortably ahead of its expectations," Fever Tree stated.
Fever-Tree CEO Tim Warrillow said: "We are encouraged to report another positive trading statement. Fever-Tree continues to trade strongly, buoyed by a festive period significantly ahead of last year. We have continued to widen and deepen our penetration with growth across our product range in all our regions. We remain well positioned in our markets and look forward to the future with confidence."
Shore Capital analyst Phil Carroll said: "It would appear Fever-Tree has had an extremely successful Christmas trading period and year overall.
"Fever-Tree is capable of delivering further upgrades in the coming year given its excellent brand and product proposition and a lack of competition. However, given the strong distribution gains delivered in 2015, there is some risk to anticipating further increases in market expectations in 2016."
Fever Tree floated in November 2014 for 134p per share, valuing the company at £154.4m. Since then the shares have more than quadrupled in value and Fever Tree has a current market cap of £721m.