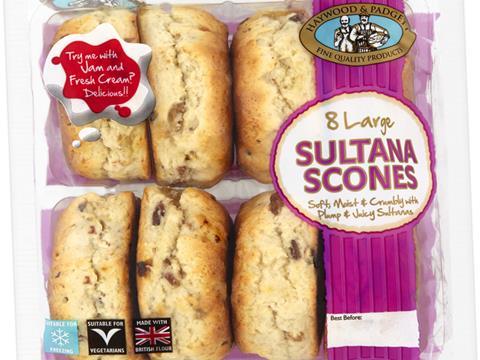 Specialist baker Haywood & Padgett recorded a 61% jump in pre-tax profit last year and now looks to to expand its product range and international reach.

The baker, which makes 4.5 million scones a week for retail and foodservice, saw pre-tax profits rise to £2.4m in the year to 31 October 2014 from £1.5m in the previous year. The boost came despite a dip in turnover, falling 3.2% to £19.4m during the year as sales and administrative costs fell. Since year-end, Haywood & Padgett has acquired snack brand Nibnibs to underpin rapid growth in the savoury snack sector.
MD Wayne Padgett said "maintaining the quality and consistency of the product, and being price-sensitive" had been crucial.

He added: "It's also important to be continually looking for ways to improve the business and to never get complacent - this is the reason we have become involved with Nibnibs, as we see these products helping to drive growth for the future."

The firm's accounts said revenues were expected to rise in the current financial year. The accounts stated: "As a result of the development of new products and net markets both in the UK and overseas and our continued excellent working relationship with our customers, the directors are confident turnover will increase in the forthcoming year".

Currently international sales account for just £251k of its turnover.

Staffing costs and numbers remained largely stable during the year, but director's remuneration fell from £136k to £33k.