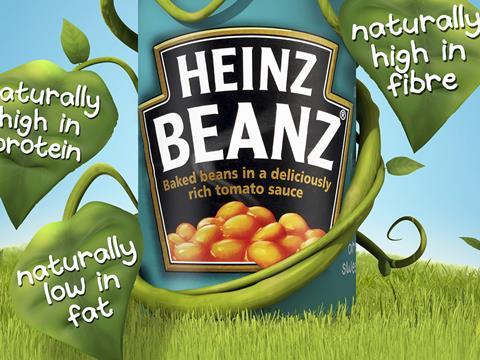 Heinz Beanz and sauces both saw strong growth in the UK last year to help boost profit margins and negate the impact of a sharp drop in soup sales.
HJ Heinz Food UK reported revenues of £904.8m in the year to 28 December 2014 and a pre-tax profit of £159.1m despite an "extremely competitive and changing" market.
Year-on-year comparisons for the numbers are tricky due to a company restructure in April 2013 that shifted the revenues of a number of Heinz HP subsidiaries into the new HJ Heinz Food UK.
As such, the company only traded from 28 April 2013, generating revenues of £599.4m and profit of £65.7m during the shortened trading period.
The companies whose selling activities were incorporated into HJ Heinz Foods UK, including HP Foods and Heinz Frozen & Chilled Foods UK, generated combined revenues of £1.25bn in the year to 28 April 2013.
Operating profit margins in 2014 improved to 17.6% from the 11% recorded in the previous period, suggesting the cost efficiencies driven by owners Warren Buffett's Berkshire Hathaway and Brazilian private equity firm 3G Capital have already improved the bottom line in the UK. Gross margin also improved, rising to 26.8% from 25.4%.
Heinz said in the accounts its product portfolio had "performed well" during the year, driven largely by promotional efficiencies and investment in marketing.
Heinz Tomato Ketchup sales edged up 1.2% - ahead of the market according to Heinz – and the rest of its sauces range grew by 18% in the period, with notable strong growth in BBQ sauces.
Its iconic Beanz range saw annual growth of 5.3% driven by NPD, while its revenues in foodservice grew by 10% thanks to price increases and new business.
However, soup volumes plunged by 10.8%, which Heinz blamed on "milder weather during winter and competitor activity". It pointed to innovation in its Black Label soup range and said it had seen "strong growth" towards the end of the year from its launch of dry soup.
Heinz said it saw a number of positive economic trends, but that "reductions in wages and continuation of recessionary habits, alongside the expansion of discounters, continue to require changes in strategy".
Heinz declined to comment further on its UK accounts.
Speaking to The Grocer in an interview published last week, Heinz's UK & Ireland MD Jan Kruise said the business was back in growth and beating last year's numbers. He said: "This is on the back of being an efficient organisation - stripping out costs that are not directly related to the quality of products, innovation power and bringing those concepts successfully to market."
Heinz was bought up and delisted by Berkshire Hathaway and 3G Capital in June 2013. Since then the global Heinz has slashed the company headcount by 20% and slashed 8% (or $400m) of total costs as well as agreeing to the $46bn merger with Kraft Foods in March.
In August Heinz said its second-quarter global net sales had declined by 4.1% to $2.62bn, largely due to a negative 9.4% impact from foreign exchange. However, organic adjusted EBITDA rose by 16.3% to $739m thanks to falling costs and increased sales in North America.