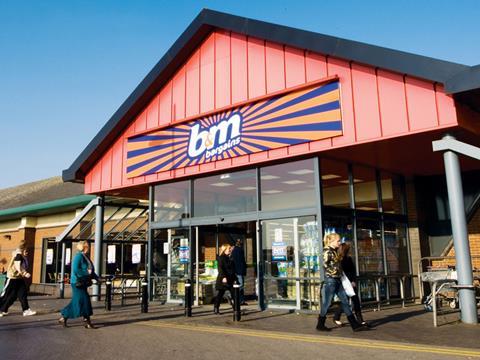 B&M European Value Retail (BME) blew off turmoil on UK high streets as its annual profits jumped 25.4%.
The discount retailer saw sales increase 22.4% to £2.97bn for the 53 weeks ending 31 March 2018, despite a recent downturn in high street spending.
Group profits before tax jumped up 25.4% to £229.3m for the year, up from £182.9m. The retailer, which opened 47 new UK stores in the year, saw UK B&M fascia revenues increase 4.7% for the year.
The retailer was boosted by its acquisition of northern frozen food chain Heron Foods, after it was purchased in a deal worth £152m.
The frozen food retailer generated £210m in sales over the year, and has helped to enable the roll-out of frozen and chilled food sections to 72 B&M stores over the period. Over the eight months of ownership it generated £11.7m earnings before tax and interest (EBITDA).
Heron Foods announced expansion plans earlier in May, with the opening of 30 new stores as it looks to expand further south in the UK.
The company said that lessons from its UK business are being introduced to a new management team at its German retailer, Jawoll, which it purchased in 2014.
Jawoll's adjusted earnings before tax and interest reduced by 51.9% to £5.6m for the year, from £11.7m, with the company targeting a return to growth for the current financial year.
B&M's model is "high relevant" to customers in the difficult economic environment and the business is "well-placed for long-term growth despite challenges in the sector, said chief executive, Simon Arora.
"B&M has delivered another set of strong results by doing what we do best, which is providing great value week-in, week-out on the things customers buy regularly for their homes and families," he commented. "None of our success could have been achieved without the hard work and dedication of the thousands of B&M colleagues across the Group and on behalf of the Board I would like to thank them for all their efforts.
"The B&M model is highly relevant for the current difficult economic environment, with its strong position in the value and convenience areas of retailing where physical stores are winning. The business is well placed for continued profitable, long-term growth. In a retail sector beset by structural challenges B&M's unique, disruptive model stands out as a success story."
A new 1m sqft Southern distribution centre is now under construction and is due for completion in spring 2020, to enable future expansion.
It added that the first quarter of the new financial year has started positively, with 3.1% like-for-like sales growth in B&M fascia stores, excluding Easter week.
Recommended final dividend increased 23.1% to 4.8p per share to be paid on 6 August 2018, bringing the full year ordinary dividend to 7.2p per share.