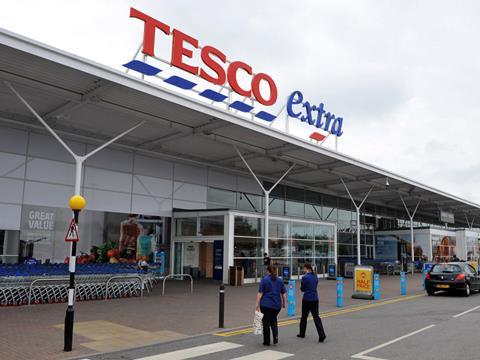 It's hard to draw on too many positives when you've just posted your company's worst annual results in its history, even if, as Dave Lewis was at pains to point out today, only 10% of it was in cold hard cash.
But beyond the £6.38bn loss announced by the Tesco boss, thanks to a spectacular £4.7bn property write down, there was actually good news for the retailer, and from surprising sources in its store estate too.
Lewis professed himself most pleased that that for the first time in four years, a period cruelly coinciding with the arrival of his predecessor Philip Clarke in the hot seat, Tesco's sales volumes are once again heading in the right direction.
But who would have thought, certainly towards the end of Clarke's reign, it would be Tesco's hulking Extra stores that would be leading the fightback?
The new boss is rightly not getting too carried away, with Q4 like-for-likes in its hypermarkets still down 2.2%, but that represents the most impressive bounceback amongst its whole estate. The growth even outstrips sales in Express branches, and compares to a massive 7.5% lfl fall in Extra sales in Q2.
What is all the more remarkable is that this has largely been achieved without the bells and whistles approach envisaged by Clarke as the salvation for Tesco Extras.
Lewis has slammed the brakes on many of the Extra revamps promised by Clarke as part of Tesco's clampdown on expenses.
Moreover, today's results saw Tesco write off a whopping £900m, precisely because they don't expect to have the sort of expansion from ventures such as the Harris+ Hoole coffee chains, Giraffe restaurants and the like which Clarke had argued were needed to turn the big sheds into entertainment destinations.
Instead, rollout of these ventures has slowed to a trickle and it would be no surprise to see them eventually kicked into touch.
The recovery of Tesco's Extras, by contrast, looks like it is being driven by old fashioned retailing basics- better service, and availability on the shop floor.
Having canned nearly 50 future developments, many of them large stores like this, Lewis knows he can ill afford another huge property write down in the future and that the stakes for getting the hypermarkets back firing again are huge.
So it was interesting to see the Tesco CEO at perhaps his most bullish today when was claiming that many analysts may have got it wrong in writing off Tesco's biggest stores and suggesting that just possibly they may have got the bigger picture of how people like to shop wrong in the process.
"I don't think necessarily the analysis on how people want to shop is spot on," claimed Lewis. "It's been said that people like to shop in three or four different places these days.
"Actually the people I speak to don't tell me that. They tell me they are having to shop in three different places so they can get the best deal and best availability. The opportunity is to give them that all in one place."
Lewis said Tesco had been guilty of ignoring the opportunities for convenience to be part of larger stores, and suggested it had taken its eyes off the real prize with the move into restaurants and coffee shops.
"The most convenient way to do your shopping in one space," he added.
"Previous management - and they were quite right in some places - brought in things like a Harris + Hoole to enhance the shopping trip, but they are not a surrogate for the things people want, availability, services, good prices and range.
"I think maybe these results, and I stress it is early signs, show that these big stores are not the dinosaurs people made them out to be."
With record losses bound to dominate the coverage - and share price performance - in the next few days, it's a different set of numbers that holds the key to Lewis' recovery plan.
If footfall and transactions continue to improve for Tesco, especially in those stores which were in danger of being the biggest millstones around his neck, the headlines might start to improve too.