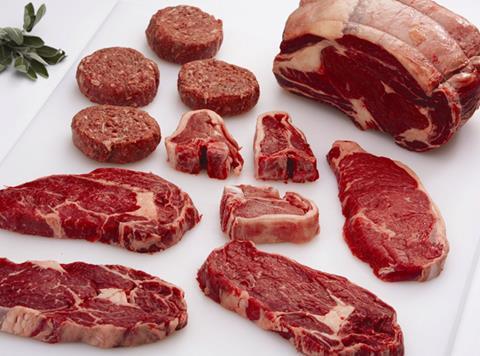 Hilton Food Group saw operating profits rise by 18.4% last year on the back of favourable currency translation and growth in a number of its markets.

The red meat packer and processor, which has a longstanding strategic relationship with Tesco, had experienced a "strong year", said CEO Robert Watson, with operating profit climbing from £29m to £34.3m, and revenue rising by 12.8% to £1.2bn, according to preliminary results for the year to 1 January.

Volumes also rose, from 256,218 tonnes to 275,213 tonnes (up 7.4%), as Hilton delivered "good performance in the UK and encouraging growth in our Irish business", it said in a presentation to the London Stock Exchange.

Hilton supplies much of the red meat used in Tesco's Farms brands, and had benefitted from the retailer's work to reposition itself during the past year, added Watson. "We're very proud of the work we have done to support them to reposition their business, and naturally we've benefitted from those increased volumes."

The business saw volumes increase at its facility in Melbourne, Australia during 2016, and undertook a successful range expansion into fresh pizza production in Sweden and Central Europe. Watson said establishing UK meat trading business Hilton Food Solutions had also been a highlight of the year.

Launched a year ago, the business was established after Hilton had been approached by several third party meat processors asking for help to source meat. "It sits within our core skills, we have lots of good connections in the industry and close relationships with our supply base, and we're very pleased with how it is operating," he added.
Brexit effect
Watson did not expect Hilton to be affected negatively by Brexit as it was "very much local in all the countries we operate in", but it had benefited from a favourable currency environment since the referendum last June, he said.

"I see some challenges but lots of opportunities from Brexit," he added, while playing down fears post-Brexit trade deals could lead to an influx of lower quality meat from outside the EU.

"The UK is very proud of its food standards, and regardless of any trade deals, I think we'll always have high standards - we have very discerning consumers in the UK."

But pointing to the uncertainty over the Irish border post-Brexit, he warned there was a "big need to manage the relationship with what is our main supply partner".

Elsewhere, the business signed a joint venture with Portuguese food retailer Sonae Modelo Continente at the turn of the year, and secured an agreement with Australian retailer Woolworths to build and operate a new production facility in Queensland, which is due to open in 2020.

"2016 was a very strong year as Hilton continued to make good progress with volume and profit growth, range extension and the launch of a meat trading business despite competitive market conditions," Watson said.

"The conclusion of a joint venture in Portugal and the development of a further factory in Australia demonstrates our geographical and operational growth and we continue to explore further expansion opportunities."