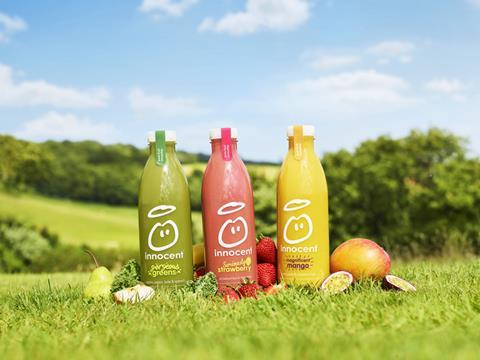 Sales at drinks brand Innocent have jumped 23% to exceed £300m for the first time, with more than half of the total coming from markets outside the UK.
The business, which has been trading for 18 years, also bounced back into the black in 2016, with profits of £8.5m compared with a £700,000 loss in the previous year as it increased investments in European markets and NPD.
New Super Smoothie recipes, a redesign of the smoothie packaging, continued demand for coconut water and the clean-living trend all contributed to growth in 2016, Innocent said.
Growth of 49% in France and 34% in Germany also fuelled the rise in the top and bottom lines last year, with €71.1m (£62m) and €86.5m (£75m) retail sales value generated in the two European countries respectively.
Total revenues in 2016 were £303.5m, but Innocent did not provide a breakdown of sales in the UK, with audited accounts not yet filed at Companies House.
Innocent struggled in the UK in 2015, with domestic turnover down 3% to £142.5m, amid "challenging" conditions in the chilled juice category, while sales to Europe increased. Retail sales value increased 11% in 2016 to £220.7m in the UK, compared with £199.3m in the previous year [Nielsen 52 w/e 31 December 2016].
CEO Douglas Lamont said: "As Innocent turns 18, we are delighted to have delivered our largest-ever year of growth.
"We are excited about the opportunities for our business to continue to grow as drinkers right across Europe become ever-more focused on living life in a healthy and balanced way. Through continued innovation, geographic expansion and great partnerships with our suppliers and retailers, we aim to become Europe's favourite healthy drinks company and keep showing that doing business the right way works."
Innocent contributes 10% of its profits to charity every year, with total donations reaching £10m in 2016.
"On top of building a successful business, the whole team at Innocent work very hard to build a business we can be proud of and reaching £10m of charitable giving is an important milestone we achieved this year," Lamont added.
"Our success shows that growth and profitability can go hand in hand with helping people live healthier lives and doing things in a responsible and sustainable way.