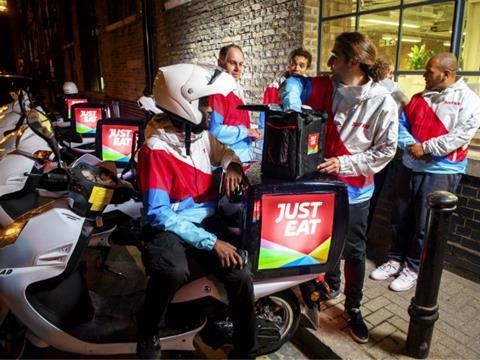 Online takeaway business Just Eat has enjoyed a meteoric rise since its 2014 float into the FTSE 100, but a profit warning and an unexpected write-down put the brakes on its progress this week.

The well-publicised travails of the high street dining sector had failed to make a dent in the City success story heading into this week, with Just Eat's shares well over treble their 260p float price at 859p and up over 70% year on year.
The company, which hooks up customers with restaurants to order takeaways online, is still strong in the UK. Revenues grew 28% to £303.8m in the year to 31 December 2017 amid order growth of 19% and underlying EBITDA up 28% to £155.4m. Group-wide figures also beat consensus, with top-line growth of 45% to £546m and a 42% jump in underlying EBITDA to £164m.

However, the City was shaken by a 20%-plus cut to its forecasted earnings in 2018 amid far higher investment requirements than anticipated. Notably its commitment to spend £50m in its own delivery service was taken as an admission that pressure is growing from UberEats and Deliveroo in the UK. Additionally, a huge £180m write-down on its 2015 £455m acquisition of Australian and New Zealand-based takeaway player Menulog amid tough competition in the region meant it plunged to a statutory group-wide pre-tax loss of £76m compared with a profit of £91.3m last year.

Investors responded by sending the stock down a massive 13.3% on Tuesday to 738.5p, though it had risen back to 770p at the time of going to press - still 37% up year on year.

Barclays called the profits guidance "disappointing, especially as the business benefits from the Hungry House integration and service charge next year". However, Berenberg was more sanguine on the increased investment, arguing: "Our initial thoughts are that we do not think the company should stand still and let competitors have a free ride at the delivery market and that £50m for an option on delivery in three large markets does not sound like a huge bet."
RBC Capital Markets also backed Just Eat to ride out the temporary turbulence. "Just Eat is attractively positioned, enjoying a leading position in all of its markets and should sustain high levels of growth. We see potential upside to revenue expectations, although investments in own delivery to weigh on share price performance near-term."
Elsewhere in the world of takeaways, UK-based master franchise business Domino's Pizza Group had a better time of things announcing its own annual results on Thursday. The group posted a spike in system sales of 15.1%, rising to £1.2bn to December 24 last year amid like-for-like growth of 4.8%. Underlying profit before tax was up 10.2% to £96.2m, though statutory pre-tax profits dipped as a result of a one-off £15m expense.
UBS said the results were "in-line with pre-reported numbers" and represented "a solid start to the year". The shares were up 2.5% on Thursday morning to 326p, but are down 17.2 year-on-year.