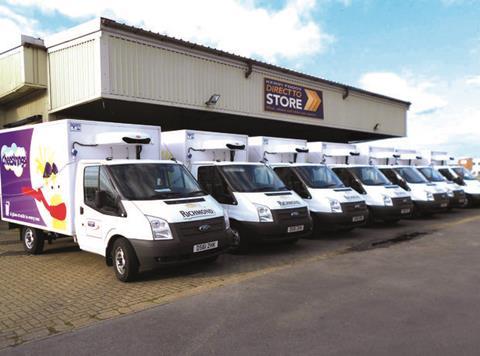 Shares in Irish food giant Kerry Food (KYGA) are down more than 2% so far today to €63.05 after it posted a 1.4% decline in revenues in 2014.
Sales fell in an increasingly tough trading environment from €5.84bn to €5.76bn as a result of currency fluctuations and costs related to the disposals of the chilled savoury pastry business to Pork Farms – which is currently under review from competition authorities – and a small cereal company in Argentina.
However, when these costs were stripped out, Kerry said it grew ahead of the market, up 2.4% on a continuing business basis as pricing decreased 0.5% thanks to "relatively benign" input costs. Continuing volume growth of 3.4% in the ingredients and flavours division (€4.3bn) was partially offset by a 0.7% decline in the consumer foods arm (€1.5bn).
Trading profit at Kerry increased by €25m to €636m in the 12 months to 31 December 2014, a rise of 5.3% on a like-for-like basis, as trading margin expanded by 60 basis points to 11.1%.
"We recorded another year of good growth, business margin expansion and an 8.1% increase in adjusted earnings per share in 2014," CEO Stan McCarthy said. "The consumer environment across developed and developing markets is changing rapidly but Kerry is well positioned to capitalise on global growth opportunities. We expect to achieve another year of good growth in 2015."
In the consumer division Kerry added it had performed "satisfactorily" in 2014 against a background of difficult market conditions in Ireland and the UK as the supermarket price war intensified.
Kerry Foods' UK brands traded ahead of market growth rates in the sausage sector, with Richmond, Wall's and Mattessons all doing well, the group said. However, Cheestrings was hit by "deep competitor promotional activity".
Since year-end, Kerry has completed the acquisition of £18m-turnover hot dog supplier Rollover, further extending its 'hot-to-go' offering; bought the trade and certain assets of Dairygold Co-operative's French food ingredients business; started negotiations to sell the Pinnacle lifestyle bakery business in Australia, which has sales of €160m; and disposed of the consumer foods divisions direct-to-store business in the UK.
Kerry has proposed a final dividend per share of 31.5 cent, taking total dividend for the year up 12.5% to 45 cent. Adjusted earnings per share at the group were up 8.1% in 2014 to 278.9 cent
Broker Investec said Kerry had posted a "solid" set of numbers but added its valuation was "stretched" leading it to retain its sell stance.