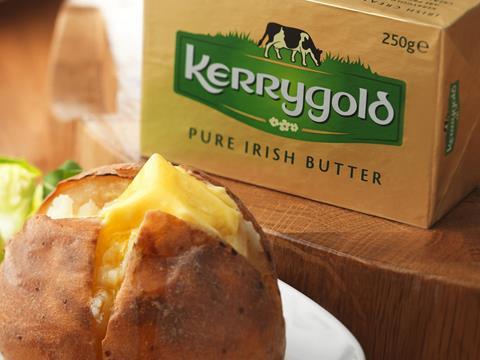 Record Kerrygold sales helped dairy co-op Ornua increase revenues by 9% to almost €1.8bn (£1.5bn) last year.

The Irish butter brand topped €900m in global sales, with the US reporting 20% volume growth, according to Ornua's latest annual results, published this week.

After selling off US subsidiary DPI Specialty Foods at the end of 2015, the Pilgrims Choice owner saw year-on-year EBITDA grow by 18% to €43.1m (£36.2m). Ope-rating profit jumped by 46% to €26.6m (£22.4m).

The group closed the year with net cash of €57.2m (£48.1m) compared with net debt of €17.3m (£14.5m) in 2015 and a "very strong balance sheet", which gave it "significant flexibility to fund future growth".

Other highlights included the launch of a range of Kerrygold yoghurts in Germany, with 10 million pots sold in the first six months.

Ornua also acquired US powder ingredients business CoreFX Ingredients, opened Kerrygold Park - a 50,000 Mt butter plant in County Cork, and bought UK-based cheese ingredients operator FJ Need, which it said had "significantly strengthened our presence in the UK ingredients sector".

"We are very pleased to report a strong 2016 performance," said Ornua CEO Kevin Lane.

"Excellent performances in established markets were accompanied by continued expansion in our developing markets of Africa, China and the Middle East.

"These results were achieved against a backdrop of significant market volatility and political uncertainty."

The business now sells to more than 110 countries.

Kerrygold saw UK sales rise by 4.7% last year to £22.3m on the back of strong block butter sales and a relaunched spreadable range. Pilgrims Choice sales fell by 2.1% to £68.7m [The Grocer Top Products 2016].