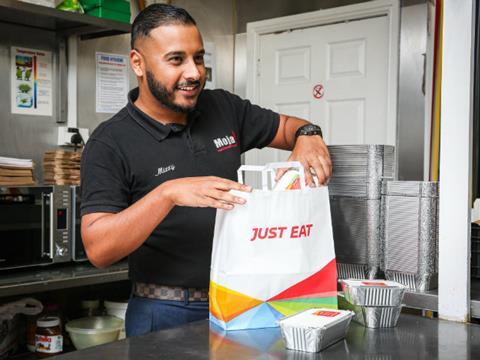 Top story
Takeaway food delivery giant Just Eat Takeaway.com has posted a 44% jump in first half sales to over €1bn as a flurry of orders during the global lockdown periods boosted first half trading.
The group processed 257 million orders in the first six months of 2020, representing a 32% increase compared with the first half of 2019, driven by strong accelerated order growth in the second quarter as the coronavirus outbreak kept people at home.
Total revenues grew by 44% to €1 billion in the first six months of 2020, compared with €715 million in the first half of 2019.
The group added a record number of new restaurants and active consumers while the number of orders per returning active consumer and the churn also improved, leading to a significant acceleration of top-line growth
In the United Kingdom, Just Eat Takeaway.com processed 77 million orders in the first six months of 2020, representing a growth rate of 18% compared with the first half of 2019, with strong growth in both Marketplace and Delivery.
Growth was driven by higher average order values during coronavirus lockdown periods, with revenues up 28% to €303m. To support restaurants during the coronavirus outbreak, €13 million of temporary commission relief was provided.
Other markets to see strong revenue growth in the period included Germany, up 102% to €161m, Canada, up 49% to €228m, Netherlands, up 40% to €80m and Rest of the World, up 37% to €259m.
Adjusted EBITDA for Just Eat Takeaway.com increased by 133% to €177 million in the first six months of 2020 driven by gross margin growth.
The group's overall loss for the period was €158 million in the first six months of 2020, compared with a loss of €27 million in the first half of 2019.
The loss was mainly driven by amortisation, advisory, transaction and integration related expenses connected to the combination of Just Eat and Takeaway.com and the proposed £5.75bn deal to buy Grubhub.
CEO Jitse Groen commented: "Just Eat Takeaway.com is in the fortunate position to benefit from continuing tailwinds. The United Kingdom, Germany, Canada, the Netherlands, Australia, and Brazil are performing particularly strongly. Our businesses have healthy gross margins, and all our segments are adjusted EBITDA positive.
"On the back of the current momentum, we started an aggressive investment programme, which we believe will further strengthen our market positions. We are convinced that our order growth will remain strong for the remainder of the year."
Management believes the Just Eat brands, despite their current strong growth, have seen underinvestment in recent years.
To strengthen, expand or recapture market-leading positions throughout its territories, it has embarked on an aggressive investment programme and will invest significantly in the United Kingdom, Canada, Australia, Italy, Spain, France and several other ex-Just Eat markets.
Just Eat Takeaway shares are up 3.2% this morning to 8,956p on the news.
Morning update
The UK is officially in recession after the Office of National Statistics revealed UK GDP is estimated to have fallen by a record 20.4% in the second quarter following a 2.2% drop in the first quarter.
The 20.4% plunge in economic activity is the largest quarterly contraction in the UK economy since ONS quarterly records began in 1955 as the ongoing public health restrictions and forms of voluntary social distancing that have been put in place in response to the coronavirus pandemic hit the UK economy.
In level terms, real GDP was last lower some 17 years ago back in 2003.
Compared with the same quarter a year ago, the UK economy fell by 21.7%.
"It is clear that the UK is in the largest recession on record," the ONS said this morning. "Our latest estimates show that the UK economy is now 22.1% smaller than it was at the end of 2019, highlighting the extent of this recession."
The decline in the second quarter was driven by the 20.0% fall in output in April 2020, the biggest monthly fall on record reflecting widespread monthly declines in output across the services, production, and construction industries.
There has been a phased easing of lockdown restrictions through May and June, including the reopening of non-essential shops. This is reflected in the latest figures, which show some rebound in June, where GDP increased by 8.7% on the month.
Elsewhere, Ireland-based nutrition group Glanbia has published its financial results for the six months to 4 July.
It said it had delivered "a resilient operating performance" whilst navigating the challenges resulting from the Covid-19 pandemic.
All group activities continued throughout the period, leading to wholly-owned revenue growth of 2.3% on constant currency basis (up 4.5% reported) to €1.84bn.
On a divisional basis, Glanbia Nutritionals traded in line with the prior year as the breadth of the portfolio across key consumer nutrition segments enabled the business to optimise opportunities in areas such as general health and immunity while navigating more challenging end market conditions for certain 'food-to-go' brand customers.
However, Glanbia Performance Nutrition suffered the main impact from Covid-19, down 15.6% in the period. It said many international markets were severely disrupted by lockdowns as routes to market in many countries were essentially closed. The impact of lockdowns, particularly outside the US, led to material negative operating leverage in the second quarter as sales declined significantly.
Prior to the pandemic, GPN had commenced a transformation project focused on core brands, route-to-market and business reorganisation to support its growth agenda. Glanbia said this project remains "on plan and key initiatives across these pillars are either delivered or in the execution phase".
Group wholly-owned EBITA pre-exceptional of €85m was down 25.4% constant currency on prior half year
The decline in wholly-owned EBITA and margin arose from the impact of Covid-19 on the second quarter performance of GPN where lower revenue drove significant negative operating leverage for the period.
Glanbia withdrew its 2020 full year financial guidance on 22 April 2020 due to the uncertainty of duration and impact of the Covid-19 pandemic. It said those conditions are still in place and therefore 2020 full year financial guidance remains withdrawn.
Meanwhile, the group has today announced an agreement to acquire Foodarom, a specialist flavours solutions business based in Canada, for CAD60m.
Group MD Siobhán Talbot commented: "In my entire career at Glanbia, I have never been prouder of my colleagues, whose response to the extraordinary challenges of 2020 have been exemplary.
"Our compelling belief is that consumers increasing focus on health and wellbeing, as well as greater importance on trust and quality, positions Glanbia well for the future, given our core purpose of the delivery of better nutrition via our brands and ingredient solutions. While navigating Covid-19 we have maintained a strategic focus across the Group; we have broadened the ambition within the transformation project in GPN and we have continued to scale our capabilities in GN as demonstrated by the acquisition of Foodarom. We continue to selectively pursue opportunities which meet our strategic and financial criteria.
"While the short term outlook remains uncertain, the Board is confident that Glanbia has the portfolio, the consumer insight and the operational expertise to succeed in this new environment."
Finally, Morrisons has announced announce the appointment of two non-exec directions - Susanne Given and Lyssa McGowan – to its board with immidate effect.
The two will also be appointed to the Audit, Corporate Compliance & Responsibility, Nomination, and Remuneration Committees.
Given is currently Chair of Made.com Ltd and Outfittery GmbH and was previously COO at Superdry PLC and was group director of fashion & beauty for John Lewis & Partners.
McGowan is currently chief consumer officer at Sky UK, responsible for the TV, broadband and mobile categories.
Chairman Andrew Higginson said: "I am delighted to welcome Susanne and Lyssa as Non-Executive Directors, and I am confident that they will both make an important contribution to Morrisons continued growth and development. Susanne has deep retail experience, across a variety of channels, and particularly in the clothing and homeware categories. Lyssa will provide us with further insight into digital transformation and brand building within large consumer facing businesses."
On the markets this morning, the FTSE 100 is up another 0.7% to 6,197.3pts so far this morning.
In addition to Just Eat Takeaway.com, early risers include Domino's Pizza Group, up 1.9% to 338p, McBride, up 1.8% to 60.9p and British American Tobacco, up 1% to 2,621p.
Glanbia is down 8.3% to €8.85 on this morning's news, while other fallers include Marstons, down 5.8% to 49.7p and McColl's Retail Group, down 4% to 33p.
Yesterday in the City
The FTSE 100 closed up 1.7% at 6,154pts yesterday on hopes of a coronavirus vaccine breakthrough.
Players in the food to go and travel retail markets were amongst the biggest gainers, with Marks & Spencer up 5.9% to 116.8p, WH Smith up 5.9% to 1,069p, Compass Group up 5.3% to 1,240p, Greggs, up 5% to 1,477p, Greencore up 4.5% to 134p and SSP Group, up 3.9% to 248.8p.
Also on the up were Primark owner Associated British Foods, up 4.5% to 1,994p and beer and wine producer and distributor C&C Group, up 3.2% to 226.5p.
Soft drinks makers were boosted by hopes of a recovery in out of home purchases, with Coca-Cola HBC up 3% to 2,152p, Nichols up 2.8% to 1,275p and FeverTree up 2.8% to 2,311p.
The day's fallers included Finsbury Food Group, down 1.5% to 58.1p, Reckitt Benckiser, down 1.2% to 7,408p, Pets at Home, down 1% to 309.8p and Premier Foods, down 0.9% to 85p