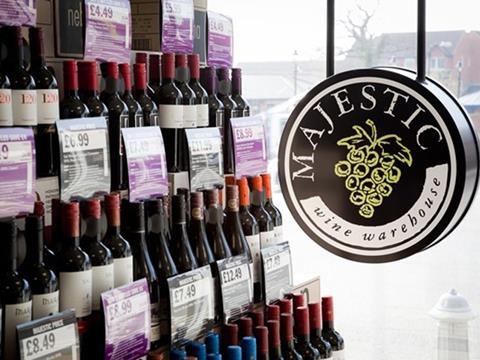 Majestic Wine has boosted like-for-like UK sales growth by more than 1% over Christmas by squeezing its margins in a bid to offer competitive prices to its customers.
The retail chain - which specialises in wine by the case - said in an update this morning that total UK sales for the ten weeks of trading from 28 October to 5 January 2015 were up 3.7%. Over the same period like-for-like growth was 1.1%.
This performance brings the like-for-like increase to 2% for the first 40 weeks of the financial year.
Majestic Wine, which has more than 200 shops across the country, said the Christmas trading period was "particularly challenging" and was characterised by increased levels of competitive promotional activity to attract customers into stores and online.
The retailer invested 50 basis points of gross margin to keep prices competitive in the run up to Christmas.
Chief executive Steve Lewis added: "Majestic delivered like-for-like sales growth of 1.1% in a difficult Christmas trading period characterised by promotional activity and we are now focused on delivering our final quarter's trading.
"We anticipate this competitive pricing environment will continue throughout much of 2015."
Despite the sales rise, Majestic shares plunged by over 13% in early trading to 345p on concerns over its diminished margins and the 2015 trading outlook.