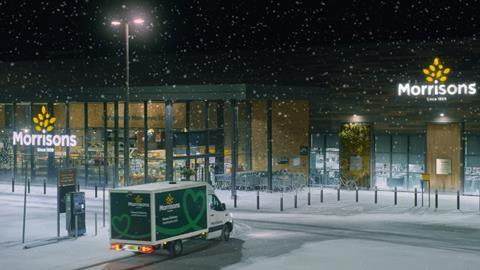 Morrisons has reported a 9.3% surge in group like for like ex-fuel sales over the festive period as rising sales have mitigated the extra costs from the coronavirus tiering rules.
The supermarket said that underlying performance was again very strong throughout the whole period, with significant operational gearing offsetting both the extra Covid-19 costs and other profit impacts that have increased further since the introduction of the most recent tier systems in early December.
All customer and brand metrics improved in the period, market share has grown, and its online and wholesale channels are growing "very rapidly".
For the first 22 weeks of its second half to 3 January, group like for like sales ex-fuel were up 8.1%, comprising contributions from retail of 7.2% and wholesale of 0.9%.
Group like for like sales including fuel were up 1.9%, with fuel sales slumping by 23.1% temporarily impacted by the various new lockdowns and tier restrictions implemented during period.
Total sales were up 8.7% ex-fuel (up 2.3% inc-fuel), with a 0.6% net new space contribution
Morrisons said its investment in cutting prices for customers meant deflation was a continuing feature for the whole period and volume growth exceeded sales growth.
During its third quarter (3 August to 1 November) like for like sales (ex-fuel) were up 7.1%. Sales then briefly increased further at the start of the second England lockdown, before broadly resuming earlier growth levels and culminating in a strong Christmas and New Year.
For the nine weeks of Q4 to date, retail LFL exc-fuel was 7.3%, and the December three weeks over Christmas and New Year improved to 8%.
Shopping patterns and customer behaviour were different this year as the Covid-19 restrictions made larger gatherings of family and friends more difficult. In the lead-up to Christmas, Morrisons said it saw more customers shopping earlier than in previous years and a renewed focus on traditional Christmas fare. Champagne sales were up 64% compared to last year, whole salmon up 40% and free from mince pies up 14%.
Online was again "very strong" with sales more than tripling so far in its fourth quarter across all its channels year-on-year. Sales growth continued to accelerate at both Morrisons.com and 'Morrisons on Amazon', the same-day delivery service recently newly available on Amazon.co.uk.
Wholesale is also profitable and sales growth was strong throughout the period, stepping up further at the start of Q4 as the remaining McColl's stores not so far covered by Morrisons wholesale supply began to transfer over to the supermarket. Wholesale like for like sales are up 24.4% so far in Q4, contributing 1.2% to Group LFL.
CEO David Potts commented: "The pandemic has had a severe effect on people and communities around Britain for nine months now but it has been especially hard at Christmas time. I'm very pleased with the way the Morrisons team has helped our customers across the nation enjoy their Christmas in the best way they could - with safe shopping, great service and outstanding stores even in the most difficult circumstances.
"But I'm even more proud of the broader contribution that the Morrisons team has made to the communities we serve - through foodbank donations, doorstep deliveries to the vulnerable, discounts for key workers, the work of our 500 community champions and the countless small acts of kindness that have made a particular difference this year.
"We will carry on listening, responding and growing, and take all the positive learnings and momentum of the most challenging of years into what we believe will be a better 2021 for all."
Despite the rapidly changing coronavirus situation, Morrisons still expects 2020/21 profit before tax and exceptionals to be in line with expectations, in the range of £420m - £440m prior to the rates payment of £230m.
As a result of the introduction of the tiering system, as well as the extra £40m direct Covid-19 costs announced in early December, it now expects to incur a further £10m before year end to cover costs such as additional colleague absence, meaning total direct Covid-19 costs of £280m for 2020/21.
In addition, the extra restrictions mean all cafés are again closed, and areas such as fuel and food-to-go are once more affected. However, it expects the sustained and significant operational gearing from the strong sales growth to offset these extra Covid-19 costs and profit impacts.
Year-end debt of £1.7m continues to be temporarily adversely affected by the impact on working capital of the ongoing lower national demand for fuel and fuel deflation (£220m); investment in higher levels of stock availability both during Covid-19 and preparations for Brexit (£65m); and the extension of the scheme to pay smaller suppliers immediately during the crisis (£60m).
Morrisons shares are up 0.1% to 181.3p so far this morning.
Morning update
December was the busiest month on record for UK supermarkets, with grocery sales jumping by 11.4% during the 12 weeks to 27 December, according to Kantar.
Tightening restrictions and the closure of restaurants, bars and cafés across most of the country meant shoppers spent £11.7bn on take-home groceries in the past four weeks alone.
Digital orders accounted for 12.6% of grocery spend during December, compared with only 7.4% last year. That helped online specialist Ocado's sales to soar 36.5% during the 12-week period despite selling to less than 3% of UK households.
Rounding out a year of strong performance for frozen food, Iceland was the fastest growing physical retailer with growth of 20.8%.
Tesco sales rose by 11.1% this period, driven by the continued success of its premium Tesco Finest brand, which found its way into more than a quarter of shopping baskets during the 12 weeks. Meanwhile, sales at Sainsbury's increased by 10.7% year on year and at Asda by 7.8%, with shares standing at 15.9% and 14.3% respectively. Sales at Morrisons increased by 13.1% compared with the same time last year.
Sales at Lidl increased by 15.2% and it gained 0.2 percentage points of market share. Waitrose's share remained flat at 5.0%, while total sales rose by 11.7%. Co-op sales were up by 9.8% and Aldi by 6.3%.
Fraser McKevitt, head of retail and consumer insight at Kantar, comments: "Whether we were able to spend it with all our loved ones or not, we had to find different and smaller ways to mark the festive period this year and we once again relied on supermarket staff up and down the country to feed our families and support our communities.
"December is always an incredibly busy time for supermarkets, but take-home grocery shopping is usually supplemented by celebrations in restaurants, pubs and bars – with £4 billion spent on food and drink, excluding alcohol, out of the home during the normal festive month. This year, almost all those meals were eaten at home and retailers stepped up monumentally to meet the surge in demand. Recognising this, a number of grocers took the unusual decision to close on Boxing Day and give their teams a well-earned break."
The Government's announcement of tighter restrictions across much of the country coincided with freight delays at Dover and ongoing Brexit trade deal negotiations in the final days before Christmas. Fraser McKevitt said that uncertainty around a deal and images of lorries sat at Dover meant consumers shopped earlier than usual and Monday 21 December was the busiest shopping day of the year.
Fewer people around the table meant that overall spending on Christmas dinner staples was muted and growth was well behind the market at 4%.
Six and a half million households still bought a turkey for roasting during December, a similar number to last year, but spend on whole birds was down 5% and some seized the opportunity change their Christmas habits,, with sales of pork roasting joints increasing by 19%, fresh fish by 20% and whole chickens by 7%.
Elsewhere, Premier Foods has announced this morning that its board representative of activist shareholder Paulson & Co will step down from the board after it reduced its shareholding position in the group.
Orkun Kilic, non-executive director, has notified the Company that he is resigning as a director with immediate effect.
Premier said that meant that the "the relationship agreement between Paulson and the Group has, therefore, come to an end".
The Company today also announces that a revised relationship agreement was been agreed with fellow activist shareholder Oasis Management Company Limited, while Daniel Wosner, non-executive director of the group and nominee of Oasis, will continue to serve on the board.
Chairman Colin Day said: "Both Orkun and Daniel have played important roles since joining the Board nearly two years ago. During this time, the group has made substantial progress on its strategic objectives and this reflects the valuable contributions made by both of them. I would like to thank Orkun for his services to Premier Foods over this period and wish him well for the future."
"We look forward to Daniel's ongoing contribution as we seek to continue to deliver further value for shareholders and other stakeholders."
On the markets this morning, the FTSE 100 is up 0.4% to 6,599.4pts depsite the introduction of a new coronavirus lockdown in England lasts night.
Risers include Stock Spirits, up 2.8% to 267.8p, Marston's, up 2.6% to 71.3p, SSP Group, up 2.3% to 325.2p and Marks & Spencer, up 2.2% to 134.3p.
Fallers include Hotel Chocolat, down 6.2% to 411.7p, Pets at Home, down 2% to 422.4p and Kerry Group, down 1.4% to €120.00.
Yesterday in the City
The FTSE 100 started the year on the front foot, rising 1.7% to close at 6,571.9pts.
Companies that have seen their share prices perform strongly during the coronavirus crisis were the strongest gainers yesterday a the outbreak in the UK continues to worsen and regulations tighten.
Consumer health giant Reckitt Benckiser was up 3.7% to 6,784p, Pets at Home was up 3.6% to 431p, Ocado was up 3.2% to 2,360p, Just Eat Takeaway.com rose 2.8% to 8,488p, Tesco was up 2.4% to 237p and Morrisons rose 2.1% to 181.1p.
Other risers included Devro, up 4.7% to 160.8p, Science in Sport up 4.2% to 37p, Hotel Chocolat, up 3.9% to 439p, Domino's Pizza Group, up 3.2% to 326p, DS Smith, up 2.8% to 385.1p, Kerry Group, up 2.8% to €121.70 and Diageo, up 2.4% to 2,948p.
The day's fallers included those exposed to food to go and the hospitality industry, including Greencore, down 5.3% to 110.3p, SSP Group, down 4.2% to 318p, Finsbury Food Group, down 3.8% to 76.5p, Marks & Spencer, down 3.6% to 131.4p, FeverTree Drinks, down 1.8% to 2,481p, Primark owner Associated British Foods, down 1.7% to 2,226p and WH Smith, down 1.3% to 1,490p.