Morrisons' underlying profits before tax plunged 51% to £181m in the six months to 3 August, while like-for-like sales fell 7.4%.

But the big news as far as the market was concerned was the supermarket honouring its pledge to raise its interim dividend by 5%, despite the collapse in sales and profits. This followed fevered speculation and debate about the dividend payment after Tesco slashed its own interim dividend by 75% in its profit warning two weeks ago.

First, analysts felt Morrisons must follow suit - and its shares subsequently collapsed by about 5%. Then speculation swung - correctly - to the supermarket maintaining the dividend, resulting in Morrisons shares rising by 3.9% over the two days running up to the results.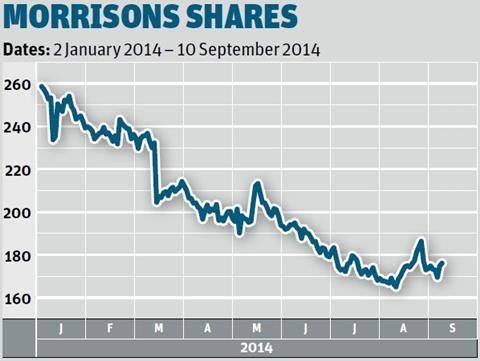 Morning trading on Thursday was just as volatile, with Morrisons jumping almost 5% in early trading before plunging back down to trade just below par by lunchtime. The muted reception to its decision to save face on its dividend seemed to be down to doubts about the shoots of recovery that management were at pains to highlight.
Morrisons highlighted an improvement in the number of like-for-like items per basket, which left Bernstein's Bruno Monteyne unmoved. Calling the overall numbers "diabolical," he wrote: "We commend the management team on finding new measures! Normally first signs of hope are expressed in better footfall. By commenting on 'items per basket', you ignore the impact of all the baskets you keep losing."

Ocado's share price was hammered two weeks ago after a downgrade from broker Redburn, losing a quarter of its value. The shares have halved since trading at 600p in February, but investors gave a cautious welcome to its third-quarter figures. Shares eased up 1.35% by Thursday lunchtime to 316p after it recorded a 15.5% sales growth and reaffirmed it was on course to post a full-year profit for the first time.

Elsewhere in what was a busy week, Thorntons pleased the brokers by exceeding full-year profit forecasts, but the market proved harder to satisfy. Thorntons warned of weaker first-half figures ahead, insisting this reflected the changing nature of its business rather than poor trading. Nevertheless, shares were down 2.9% to 101.97p by close on Wednesday.