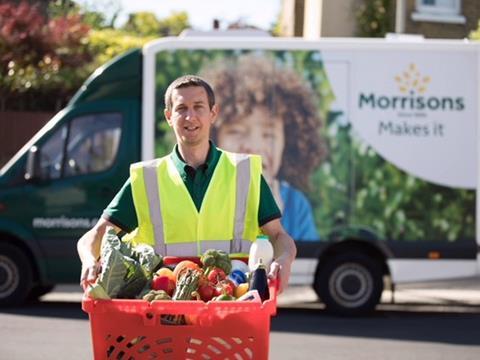 Top story
Morrisons (MRW) has posted a 2.3% rise in like for like first quarter sales as it has announced a temporary suspension of its use of online partner Ocado's (OCDO) Erith customer fulfilment centre and an end to the exclusivity of their partnership.
For the 13 weeks to 5 May, Morrisons' group like-for-like excluding fuel grew 2.3%, with retail like-for-likes up a modest 0.2% and wholesale growth of 2.1%.
Both overall like for like growth and retail growth were the slower than any quarter in 2018/19, with the corresponding seeing total and retail like for like growth of 3.6% and 1.8% respectively.
Total sales were up 2.4% excluding fuel and 2.9% including fuel.
Morrisons said its retail sales performance was "robust", achieving first quarter like for like growth for the fourth consecutive year "despite political and economic uncertainty continuing to impact consumer confidence".
It said that sales during the important Easter period were again strong, with LFL up 1.7% on last year and 3.4% on a two-year basis.
Its wholesale business continued to make "good progress", with the first McColl's conversions to Morrisons Daily, and MPK conversions to both Morrisons Daily and Safeway Daily "starting well, with strong sales increases".
CEO David Potts commented: "We are improving the shopping trip and becoming more competitive for customers, and are pleased with another quarter of positive like-for-like sales.
"We will continue this important work, including on those favourite items we know our customers want to buy at Morrisons."
Morrisons said it expects the market to remain competitive and challenging, with particular pressure on comparatives in the second quarter given last year's favourable summer weather and the World Cup.
"However, we remain confident that Morrisons still has many sales and profit growth opportunities ahead, and continue to expect that growth to be both meaningful and sustainable," it said.
Meanwhile, Morrisons has also announced it has agreed that its online delivery partner Ocado will have sole use of the new Erith customer fulfilment centre (CFC) until January 2021 to enable extra capacity for Ocado following the recent fire at its Andover CFC.
Morrisons will return to the Erith CFC in February 2021, at the pre-agreed proportion of Erith's capacity and will not incur either the start-up or running costs of the new Erith CFC in the interim period.
Until that date, Morrisons.com will still be able to grow for customers, both by accelerating new store pick capacity and through the Dordon CFC. However, on its return to use of Erith in 2021 Morrisons will be able to ramp-up its online offer more quickly and cost effectively.
In addition, both companies have agreed that Ocado will no longer be Morrisons exclusive digital partner. Morrisons said the agreement would "potentially enable other significant opportunities, more strategic flexibility, and more profitable growth". Certain exclusivity provisions for Ocado will also be relaxed.
Potts commented: "We are pleased to be helping our partner in times of need after the recent fire. We will keep growing Morrisons.com for our customers and save some cost, returning to the Erith CFC when it is more mature.
"Our new agreement allows us to have more than one digital partner, and opens the way for significant potential opportunities and partnerships in this important growth area for Morrisons."
Ocado said it that after the Andover fire has been seeking additional capacity within its existing network of CFCs to maintain the "quality of the customer experience and to allow the business to continue to grow".
Ocado CEO Tim Steiner added: "Morrisons is a valued partner of Ocado and we are glad that we have been able to come to an equitable and pragmatic agreement that is in the interests of both parties. We look forward to welcoming Morrisons back to Erith in February 2021".
Morning update
German retail group Metro AG has announced a 1.2% increase in second quarter like-for-like sales increased driven by Eastern Europe (excluding Russia) and Asia.
Metro's sales increased by 1.6% in local currency, with Eastern Europe up 6.8% and Asia up 3.6%. The sales growth was acheived despite the shift of the Easter business to April and thus to its third quarter.
EBITDA excluding earnings contributions from real estate transactions was down to €83m from €111m in the same quarter last year, while it made a loss of €34m from continuing operations (an improvement from the €45m loss in the same period last year).
The trading update comes as Metro announced last night it is close to sealing a sale of its Real grocery business.
Metro and a consortium led by Redos have entered into exclusive contract negotiations for the chain, with the aim is to sign a definitive contract in the summer.
Exclusivity will last until the end of July for a dela with an enterprise value of approximately €1bn and an equity value of approximately €0.5bn.
On the markets this morning, the FTSE 100 is down 0.5% to 7,235.9pts.
Morrisons is down 0.4% to 212.8p on this morning's news, with Ocado up 1.9% to 1,378.7p.
Risers so far include PayPoint (PAY), up 2% to 1,024p, Sainsbury's (SBRY), up 1.6% to 212.3p and Reckitt Benckiser (RB), up 1.3% to 6,191p.
Fallers include AG Barr (BAG), down 1.8% to 808p, DS Smith (SMDS), down 1.7% to 342p and Stock Spirits Group (STKC), down 1.3% to 230.5p.
Yesterday in the City
The FTSE 100 ended the day up 0.2% to 7,271pts yesterday to stem recent falls.
However, it was a tough day for a number of consumer stocks led by a 6.3% share price slump at UK-listed tobacco firm Imperial Brands (IMB) as it announced that first quarter sales of its e-cigarrete products slowed.
Other major grocery companies on the slide included Bakkavor (BAKK), down 2.6% to 119.6p, Sainsbury's (SBRY), down 2.3% to 209p, TATE & Lyle (TATE), down 2% to 747.2p, Marks & Spencer (MKS), down 1.5% to 272.9p, Greencore (GNC), down 1.4% to 225.6p and Tesco (TSCO), down 1.4% to 243.5p.
Also falling were PureCircle (PURE), down 2.9% to 281.5p, Majestic WINE (WINE), down 2.8% to 257.5p and McBride (MCB), down 1.8% to 92.2p.
The day's few FTSE 100 risers include Reckitt Benckiser (RB) ahead of its AGM later this morning, up 1.9% to 6,111p, Diageo (DGE), up 0.9% to 3,240p and Coca-Cola HBC (CCH), down 0.8% to 2,754p.
Also on the up were C&C Group (CCR), up 4.3% to €3.54, Applegreen (APGN), up 2.2% to 451.5p, Hilton Food Group (HFG), up 1.8% to 1,024p and Just Eat (JE), up 1.5% to 695p.