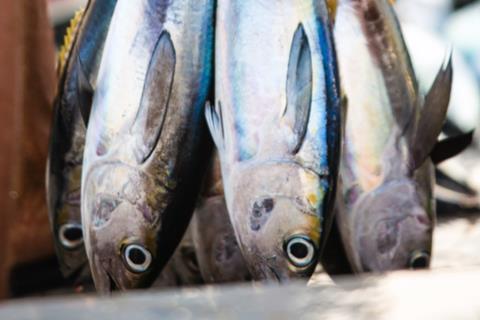 UK fish processor New England Seafood has lauded its "hard-earned progress" and adaptability in a tough trading environment, following the release of its latest accounts.
According to financial results filed at Companies House for the year to 31 October 2019, overall sales at the Surrey-based processor rose 4% to £161.1m, despite a difficult first quarter. Meanwhile, operating profit fell by a quarter to £2.4m due to this slowdown as well as extra admin expenses and discontinued elements of the business, such as dormant holdings resulting from its 2016 acquisition of wholesaler Albert Darnell.
New England said an initial phase of lower promotional volumes at retailers and reduced consumer spending caused a dip in its sales in Q1. However, the business said it had responded to this challenge by adapting its offer, winning new business and boosting efficiency and cost control.
It launched a white fish range for Asda in January 2019 and became the Co-op Group's white fish supplier in May 2019.
The processor also said it had poured "significant" investment into both its Grimsby and Chessington plants, as well as personnel. New portioning and grading equipment has been installed at both sites, whilst the company has also boosted efficiency at its Surrey base through development of products that used more of the carcase.
New England CEO Dan Aherne said the effect of these changes led to "good progress" in both Q3 and Q4.
"As we head into a uniquely challenging economic cycle, NES is working hard to deliver the best possible combination of quality and value to our customers and consumers. It's a challenge we must rise to," said Aherne.
"The opportunities to grow the fish category remain plentiful. As an industry we must inspire and educate consumers and provide an offer that makes fish more accessible at more occasions. That means having the courage to do some things differently."
One way in which New England has behaved differently in 2020 has been through the launch of new seafood brands Leap and Fish Said Fred, which have won retail listings in Tesco and Ocado respectively.
It has also sold off its loss-making white fish foodservice business operating from Grimsby in a bid to free up further capacity for its retail offering.
Looking ahead to Brexit, the processor explained the three deadlines in 2019 had provided a "good dress rehearsal" for the looming 31 December cut-off. It said its strategy for coping with a 'no deal' scenario had encompassed stockpiling alongside hedging against damaging moves in exchange rates.
Its workforce was largely secure, it added, with many of its non-UK workers holding settled or pre-settled status.
Meanwhile, it warned the coronavirus pandemic could see further stockpiling and price rises due to the precarious nature of importing from other countries struggling to combat the disease. New England imports fish from countries such as South Korea and China.