Meat counters are going out of fashion in UK supermarkets. But with some insisting they're 'vitally important', can they evolve to survive?
Customers are shopping in different ways," said Tesco's UK CEO Jason Tarry last January, explaining the decision to ditch 90 fresh meat, fish and deli counters, and to drastically reduce the capability of the remaining 700 across its estate. "We know they have less time available to shop too. Which means they are using our counters less frequently," he added of the cuts - part of a cull of about 4,500 staff.

Tarry again referred to "changing customer demands" last month, as he announced Tesco would also restructure its in-house bakeries - with a further 1,800 jobs at risk - through a plan to scrap scratch baking altogether in 58 stores and to move to the part-baking of some products in another 201 stores.

And it's not just Tesco that's been wielding the axe. Asda announced in January it would replace its 150-plus meat and fish counters with a new "food-for-now" offer this year, replacing them with food-to-go services such as Greggs and Sushi Daily and delivery services like Just Eat in a bid to reinvigorate its stores ahead of a potential sale of the retailer by Walmart.

Asda's plan will see it roll out at least 35 of its new formats by the end of the first quarter and 150 by the end of 2020, in a bid to "better align with our customers' lifestyle", suggested the senior manager of its food for now operation Elizabeth Ruddiman. Even Waitrose has cut opening hours on some of its counters.

So are we seeing a slow death of the meat and fish counter in the UK's largest supermarkets? What's driving this change and can the counter be reinvented for the 21st century?

The axing of counters represented a "sign of the times", lamented retail consultant Bryan Roberts in a letter to The Grocer in January, which suggested the channel was "simply not doing enough [in terms of] sales". Adds IGD senior retail analyst Nick Gladding: "Pressure on margins is making UK supermarkets consider the performance of their meat and fish counters."

Counterintuitively, many retailers on the continent are actually investing in meat counters. European counters tend to be at the centre of the store and are well-resourced. "If you look at the amount of space and staff on UK counters, they just don't stack up in terms of the money they are taking", agrees AHDB head of retail and foodservice engagement Matt Southam. "But we've been saying to them all for a while that they don't do counters properly," he stresses. Many haven't had the right level of staff or knowledge behind them, and that's what people go to the counter for - advice and recommendations on a particular cut."
"It takes investment and staff to make these channels a success. But from a business point of view there's just not the business case"
Southam adds Tesco and Asda staff in particular haven't been able to offer that kind of service for a while. "You'll find that there will have been a lack of training, with staff often on the fish counter one second and then rushing off to see a customer on the meat counter, so ultimately they've not helped themselves," he points out. "This is the trade-off. It takes investment and staff to make these channels a success. But from a business point of view there's just not the business case."

Wastage is also a big issue from counters, suggests Roberts, and will also have played a part in the decision by the likes of Asda and Tesco to focus elsewhere. "In most supermarkets at 7pm there will normally be a whole bay devoted to stuff from counters, particularly fish, that hasn't sold."

Data on just how many counters are left across the mults is thin on the ground. "But they were pretty much part of the standard kit for most stores throughout the 1990s and until the end of the space race in the early 2010s," Roberts points out.

While Tesco and Asda's position on the channel is now well documented, Sainsbury's won't disclose the number of counters it still has in its stores.

What we do know is that Morrisons was quick to capitalise on Tesco's initial announcement last January by announcing it would train an extra 500 apprentices over the next 12 months, with many of them specialising in traditional craft skills such as butchery, bakery and fishmongery. It stresses that counters "are very important to us and we're investing in them". So much so, Morrisons has meat counters in 471 of its 495 stores, and fish counters in 458.

Waitrose also insists counters "remain a vitally important part of our offering". It currently has 277 meat and fish counters, which is actually up from 240 a decade ago. However, it concedes "where appropriate, some close a little earlier than the main store closure".
Steady decline
This "steady decline", since its peak at the turn of the century, is borne out by sales statistics.

Total spend on loose primary meat has fallen by 6% over the past three years to £189.5m [Kantar 52 w/e 28 January 2018 to 26 January 2020]. This decline would have been much steeper had it not been for the success of loose pork sales, with spend climbing by 35% to £51m.

A number of factors helped boost pork spend, according to AHDB retail analyst Zoe Avison, including the fact pork has been "the cheapest cut per kilo in quite a price-led market". The support of a generic marketing push over the past two years to promote pulled pork has also contributed, she suggests.

However, it's a different story for loose beef sales, which plunged by 15.7% to £99.3m during the same period, while lamb sales fell by 13.1% to £39.2m. And it's a similar picture in processed meat, with counter spend on sausages down by 6% to £11m. Spend on meat counter staple sliced cooked meat, meanwhile, is down a whopping 22.9% to £130.6m.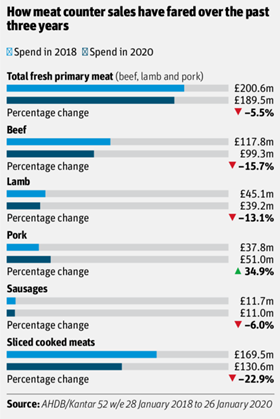 Sales of hot chicken products such as rotisserie have also been affected by a migration of shoppers to pre-pack, adds Avara Foods' chief commercial officer Chris Hall. This is driven in part by innovations such as roast-in-bag - which offers shoppers a similar added-value product to rotisserie chicken, with additional health and safety appeal - and a general decline in what he calls the "roast ritual", citing a 7% drop in value sales for roasts last year and a 7% increase in sales of hot on-the go products [Kantar 52 w/e 31 December 2019].

"We've definitely seen some movement between formats, so less product sold directly over hot counters and more pre-pack sales," he says. "Roast-in-bag is a good example of a very similar need-state for the consumer, which is more convenient as they can prepare at home when they want it."

A failure to adapt counters to consumer needs for added-value meat means much of the innovation in red meat resides in the pre-packed aisles, adds Keith Fisher, CEO of the Institute of Meat.

Younger shoppers also tend to swerve the fixture as they seek convenient solutions, and "expect the preparation of their meal components to be done for them", he adds.

"Counters have mainly become displays of commodity products such as minced beef, steaks and chops, liver, sausages, with little or no added value products to tempt the customer," he adds. "This could be why some high street butchers and farm shops are doing well, because they are offering a service as well as added-value products and award-winning sausages, burgers and bacon."
Fish counters
Meanwhile, in fish, the stark reality is British shoppers are far less adventurous compared with those on the Continent, suggests Roberts. "A big store in Spain or Portugal will be making up to 12% of their revenue through the fish counter, whereas in the UK, that would be much closer to 0%," he says. "Our diets and cooking habits mean fish counters are never going to do a tonne of business in many locations, and that's why we see so much wastage from those counters."

With this in mind, it would be easy to dismiss the concept of counters in many stores outright. But a significant proportion of shoppers still see value in the channel. AHDB says older, retired households value the smaller portions available from counters and over-index on loose meat, with shoppers over 65 representing a 42.1% share of counter shoppers, compared with 31.5% for the total fresh meat category [Kantar 52 w/e 26 January, all retailers including butchers].

Shoppers also value interaction and advice from staff, according to research for The Grocer by data firm Streetbees, with 36% of the 1,000 shoppers polled preferring to talk to someone about the cut of meat they buy versus 23% who do not, while 42% think food counters add value, compared with 20% who do not.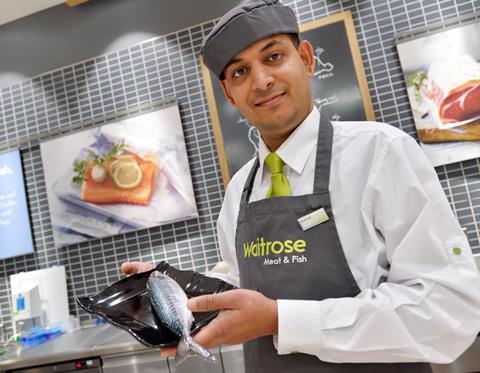 It's very much a nuanced picture, says Roberts. "I remember talking to someone senior from Tesco who said counters weren't a sales driver but what they do is create better relationships with some shoppers."

And in this era of stiff competition from the discounters, having a counter proposition can offer crucial differentiation, adds AHDB's Southam. "You could argue they are missing a trick when it comes to competing with the discounters," he says. "And we often talk about the halo effect in terms of freshness and quality perceptions of pre-pack meat from successful counter operations."

But with Asda, Tesco and Sainsbury's teaming up with third-party operators, the future of fresh meat and fish counters looks like it will be shared between retailer-run operations and concessions.

Some counters still do a great job and will continue to do so, says Roberts, but retailers will increasingly look to rent out their space in other stores. "We've seen both Tesco and Asda turn over space to halal operators such as Halal Food Centres and Haji Baba, which perform well in regions such as Yorkshire and London," says Roberts, while Polish delis also play well where the local demographics are supportive.

"The benefit of these types of counters is that you still get to have a meat counter which can appeal to Muslims and non-Muslims alike, especially in key periods like the barbecue season. But the retailer isn't responsible for the maintenance or payroll of that counter."

Tesco has also trialled "lower rent" attempts at deli offerings in a few stores, with displays of meat and pies that have been centrally processed, Roberts notes. Meanwhile, Asda has also had success with McGees butcher concessions in its Northern Irish stores, he explains, while partnerships with the likes of Sushi Daily can continue a counter presence in fish.

This approach was demonstrated yet again earlier this month, when Asda launched trials of 20 Panku concessions selling oriental street food in the latest of its so-called "test and learn" partnerships. The deal will see Panku, run by the Yo Sushi Group-owned Taiko Foods, sell products such as katsu curry, chicken yakitori skewers, tofu, Thai curry and sushi burritos.


Third-party concessions
Meanwhile, Greggs is also eyeing up an expansion of concessions across the big four in a move that could further transform the counter channel, after launching a trial in Asda last month.

"By partnering with brands that fit with our core values of great quality and great value, we're excited to be able to give our customers access to something new in store that we know they will love," said Asda chief strategy officer Preyash Thakrar as he unveiled the partnership.
"Third-party concessions enhance the everyday shopping experience"
"Third-party concessions enhance the everyday in-store shopping experience," suggests Ian Roberts, UK MD of Sushi Daily, which runs more than 100 concessions in Waitrose and Asda. "They can provide food-to-go and freshly made food experiences, while introducing an element of theatre as consumers watch food being prepared," he adds. "Where there is demand, supermarkets are keeping fish and meat counters, but are also adjusting to a more convenience-led and meal solution basis too. Our solution works well in both cases."

Ultimately, the die is cast for counters in many quieter stores "which is sad for many people, who may be a bit miffed", says Roberts. But with shopper tastes evolving so quickly and new formats emerging, maybe that's not such a bad thing. Asda announced in January it would replace its 150-plus meat and fish counters with a new 'food for now' offer.