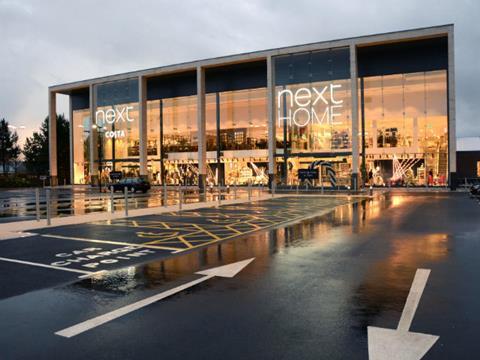 Top story
High street bellwether Next (NXT) has reported sales growth in-line with expectations over the festive period, but has cut its profit guidance due to higher sales of lower margin goods.
The listed clothing retailer said sales were up 1.5% year-on-year in the period between Sunday 28 October and Saturday 29 December.
It said "strong" sales in the three weeks prior to Christmas along with a good half-term holiday week at the end of October made up for disappointing sales in November.
Its physical stores suffered a 9.2% drop in full price sales in the Christmas period, a worse performance than the 7% drop in such sales for the full year to 29 December.
Online sales were up 15.2% in the period, a rise on the full-year online growth of 14.9%.
For the full year Next expects full price sales growth of +3.2%, in line with the guidance given in September.
However, it cut guidance for full year profit by 0.6% as it expects profits of £723m rather than the previously guided £727m.
Higher sales on seasonal products, such as personalised gifts and beauty products, reduced margin by £1.5m. Secondly, the remaining £2.5m reduction came as a result of the increased operational costs associated with the higher online sales.
The profit guidance cut had been widely expected by the market and the £4m difference was less severe than many had feared.
Next shares have jumped a further 5.2% to 4,396p in early trading despite the cut to profit guidance.
Morning update
Fellow clothing retailers have benefitted from Next's solid Christmas performance, with seems to have belied investor fears over carnage on the high street over the festive period.
Notably Marks & Spencer (MKS) is up 3.3% to 256.1p and Primark owner Associated British Foods (ABF) is up 2.6% to 2,125p so far this morning.
Other risers linked to the Next results include ASOS, up 5.9% to 2,510p, Boohoo Group, up 2.8% to 165.4p and SuperDry, up 2.2% to 475.4p.
The grocers have also edged up, with Morrisons (MRW), up 1.3% to 214.5p, Tesco (TSCO), up 1% to 193.4p and Sainsbury's (SBRY), up 0.7% to 263.4p.
Overall, the FTSE 100 remains flat this morning at 6,729.2pts.
Other risers include Stock Spirits (STCK), up 4.5% to 220.5p, Devro (DVO), up 4.3% to 165.2p and Nichols (NICL), up 2.9% to 1,389p.
Fallers so far include Dairy Crest (DCG), down 1.7% to 423.8p, SSP Group (SSPG), down 1.4% to 647.8p and Premier Foods (PFD), down 1.2% to 33p.
Yesterday in the City
The FTSE 100 recovered from heavy early losses to close the day up 0.1% at 6,734.2pts.
After a poor share price performance in December, Next clawed back 4.7% yesterday to 4,177p on market expectations its Christmas trading update this morning may not be as bad as had been previously feared.
Investor expectations that Ocado (OCDO) has had a good Christmas led to a 2.6% rise in the online grocer to 810.6p.
Other risers included Dairy Crest (DCG), up 2.1% to 431.2p, FeverTree (FEVR), up 2.2% to 2,247p, WH Smith (SMWH), up 1.8% to 1,751p, SSP Group (SSPG), up 1.4% to 656.7p and Associated British Foods (ABF), up 1.4% to 2,072p.
Sainsbury's (SBRY) was amongst the sector's notable fallers yesterday, dropping 1.3% to 261.5p suggesting market concerns over its performance compared to its grocery rivals.
More FTSE 100 fallers included Diageo (DGE), down 1.2% to 2,761p and Compass Group (CPG), down 0.9% to 1,635p.
Also falling were Real Good Food (RGD), down 4% to 6p, McColl's (MCLS), down 2.7% to 54p, Mitchells & Butlers (MAB), down 2.1% to 252p and Nichols Beverages (NICL), down 1.6% to 1,350p.