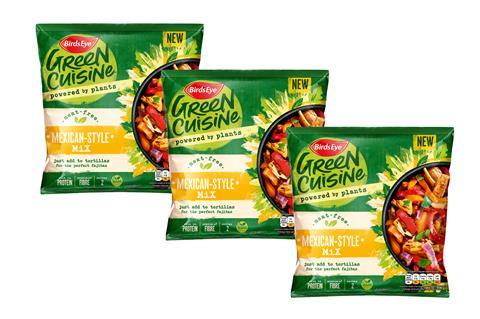 Sales at Birds Eye owner Nomad Foods have rocketed once again as locked down shoppers continued to stock up freezers as they ate all their meals at home in November.
The group, which also owns Aunt Bessie's and Goodfella's, said in an unscheduled update that revenues increased 10% in the first two months of the fourth quarter and are expected to remain above historical levels during December.
The latest grocery market share figures from Kantar this morning showed take-home grocery sales rose by 11.3% during the 12 weeks to 29 November 2020, the fastest rate of growth since August. Nielsen reported sales of frozen food increased by 19.7% in the past four weeks.
Nomad added it now expected organic revenue growth to increase in the high single-digit range.
It also raised its full-year 2020 forecasts as a result of the boom in demand for its products, with adjusted EBITDA estimated to be €465m, up from about €460m previously.
CEO Stéfan Descheemaeker said the company's latest expectations put it on pace to achieve a 16th consecutive quarter of organic revenue growth.
"These preliminary results reinforce the focus and commitment of our entire organization to perform at a high level amidst a global pandemic," he added.
"We are proud of the track record that we are establishing as a premier packaged food company delivering sustained organic growth, strong free cash conversion and accretive capital deployment. Equally, we are excited by our growth prospects – organically and inorganically – as we recently outlined at our investor day."
Nomad has had a good pandemic, with the raised demand for longer-life food items as consumers prepare more meals at home fuelling strong growth.
Reported revenues jumped 11.4% to €599m (£541m) in the second quarter during the height of the first wave of the pandemic and first national lockdown, with organic growth of 12.3%.
Nomad said at the time it was targeting a pipeline of European frozen food asset. In November, the group unified the Findus brand across Europe under the Nomad umbrella with the acquisition of Findus Switzerland in a €110m (£97.8m) deal.
Growth slowed in the third quarter as Covid restrictions eased across its markets and people visited more pubs and restaurants and attempted to take holidays, with organic revenues up 5.4%.
Co-chairman and founder Noam Gottesman said: "We are delighted to end the year on a strong note and are firmly on track to achieve the long-term financial targets that we shared at our investor day just last month.
"Our confidence in the management team and growth strategy are underpinned by the repurchase of our shares, which we continue to see as fundamentally undervalued relative to the historic performance and growth prospects of the business."
Nomad also announced today that it had repurchased more than $95m of its ordinary shares so far in the fourth quarter. The group has bought back in excess of $195m of cumulative share repurchases in the year to date under its $300m repurchase plan.
In aggregate, Nomad Foods has returned more than $655m of capital to shareholders year-to-date.