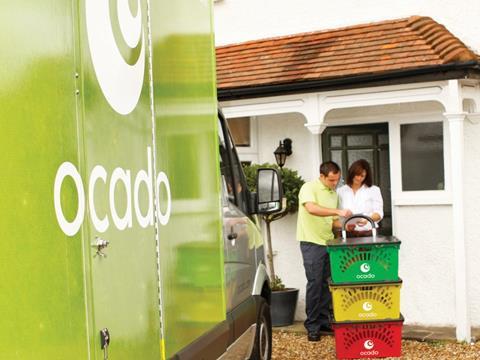 Ocado hailed "steady growth" this morning as it reported a 15.5% rise in gross retail sales in its third quarter.
Retail sales hit £218.5m in the 12 weeks to 10 August, up from £189.2m in the same period last year.
Group sales – including the revenue from its tie-up with Morrisons – grew 22.5% to £231.9m.
However its average order slipped 1.7% from £113.54 last year to £111.64.
Average orders per week grew 17.4%, from 139,000 to 163,000.
"We are pleased with the continued steady growth in our business despite the increasingly competitive nature of the market," said Ocado CEO Tim Steiner. "We remained committed to continually improving the quality of the offer to customers, which we believe will support continued growth. This performance also further demonstrates the ongoing shift to online grocery shopping.
"The retail environment is challenging with an increased level of promotional activity and price reductions across the industry. However, due to the strength of our offer, we expect to continue growing sales broadly in line with, or slightly ahead of, the online grocery market."
As at 10 August, the Group had cash and cash equivalents of £78m and external borrowings of £44.9m.
On track for profit
Ocado is on track to produce a profit for the full year, according to chief financial officer Duncan Tatton-Brown, having recorded a pre-tax profit of £7.5m in the first half of the year. "The strength of our proposition is coming through – customers are voting for it," he said.
Tatton-Brown shrugged off the retailer's falling basket size, saying customers were growing "more loyal".
"We're adding more customers to our Smart Pass, which lets you pay up front for unlimited deliveries. That leads people to not just do the main shop with us, but top-up shops too. The average basket size drops, but total spend increases. They are more loyal because more of their spend is with us.
"Half of our sales are from customers using Smart Pass," he added.
Analysts at Numis welcomed the figures. "Despite the tough UK trading backdrop, we remain positive on the shares, encouraged by the solid top-line progress and clear share gains, and seeing huge long-term potential for Ocado to benefit from the shift online and leverage its market-leading IP."