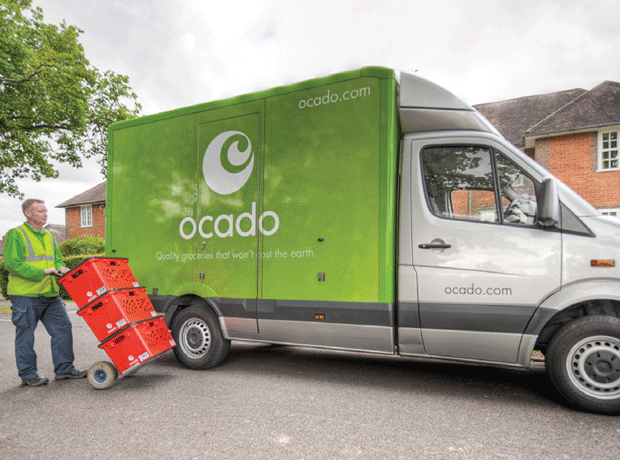 Growth at online supermarket Ocado has slowed in the fourth quarter with gross retail sales up 14.9% to £311.4m, compared with a 15.5% boost during the previous three months.
Gross group turnover, which includes its partnership with Morrisons, jumped by 18.6% to £331.9m in the 16 weeks to 30 November 2014, up from £279.9m a year ago. It tipped total revenue, including VAT and marketing vouchers, for the year at the retailer to past the £1bn mark as more consumers turned to the internet for their groceries.
Ocado's average basket size shrank again in the period by 1.7% from £111.64 to £109.74, after falling by a similar amount in the third quarter primarily due to falling food prices. In the past chief financial officer Duncan Tatton-Brown put the decrease down to customers becoming more loyal and doing top-up shops with Ocado as well as their main shop.
Average orders per week in the quarter increased from 152,000 last year to 177,000.
The trading update to the stock exchange did not include information on earnings but Ocado is expected to report a maiden annual profit when it releases its preliminary results in February next year having recorded a pre-tax profit of £7.5m in the first half.
Chief executive Tim Steiner said: "We are pleased with the continued steady growth in our business against the backdrop of a more competitive grocery market. This performance reflects an increasing number of customers who value the wide range of products, keen prices and great service made possible by Ocado's unique operating model, and further demonstrates the ongoing shift to online grocery shopping.
"We remain committed to constantly improving the quality of the proposition to customers, which we believe will support continued growth, and although we anticipate the retail environment to remain challenging, we expect to continue growing sales slightly ahead of the online grocery market."
Shore Capital's Clive Black said of the 14.9% sales boost: "Such growth is good in a very challenging market, one where Ocado may be having to invest in gross margin, particularly if it continues to follow price-matching of Tesco."
Ocado's share price rose by more than 2% in the early trading to 341p.
At the period end, the group had cash and cash equivalents of £76.3m and external borrowings of £44.9m.