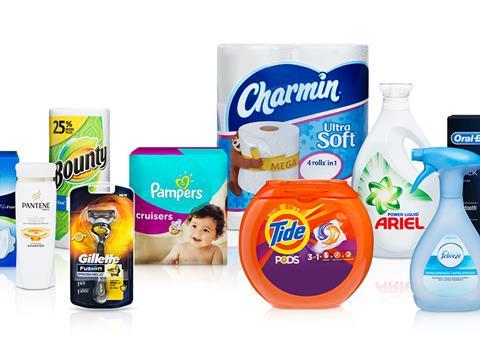 Revenues have soared at Procter & Gamble in the first quarter on the back of shopper demand for home hygiene products as the coronavirus crisis continues.
The US-headquartered fmcg giant, which owns Ariel, Head & Shoulders, Vicks, Gillette, Fairy and Febreze among its stable of household brands, reported a 9% jumps in sales to $19.3bn in the three months to the end of September.
P&G said the increase was driven by the disproportionate growth of premium home, health and hygiene products, as well as the North American business more generally as pandemic-related consumption continues to remain high.
Consumers around the world stuck working from home have increased their use of household cleaning products, including the laundry and fabric care brands owned by P&G, including Bold, Daz, Ariel, Fairy and Lenor.
P&G's fabric and home care division was the star perfomer in the quarter, with organic sales growth of 14%. Within the division, fabric care delivered growth in the high single digits, while home care organic sales rose more than 30% thanks to the spike in demand for cleaning products during the pandemic, resulting in double-digit growth across all markets.
Fellow global fmcg group Reckitt Benckiser also reported soaring sales yesterday as shoppers bought more Dettol and Lysol, with its hygiene division reporting a 19.% jump in third-quarter numbers. And rival Unilever is set to report its latest quarterly figures tomorrow (22 September 2020).
P&G also reported a 7% hike in beauty sales, a 6% rise in grooming, 12% jump in health care and a 4% increase in baby, feminine and family care during the first quarter.
"We delivered another strong quarter of organic sales growth, core earnings per share and cash returned to shareowners, enabling us to increase our outlook for fiscal year results," said David Taylor, Chairman, President and Chief Executive Officer. "Our near-term priorities continue to be employee health and safety, maximizing availability of P&G products for consumers around the world, and helping society meet the challenges of the COVID crisis. We remain firmly focused on executing our strategies of superiority, productivity, constructive disruption and improving P&G's organization and culture to deliver balanced top-line and bottom-line growth along with strong cash generation."
Operating profits at the group increased 23% to $5.3bn on the back of the sales growth.
Revenue growth for the 2021 financial year is now expected to be in the range of 3% to 4% rather than 1% to 3% as previously forecast. P&G also raised its outlook for organic sales growth to 4% to 5%, compared with the expected 2% to 4%.
The company returned $4bn of cash to shareholders via $2bn dividend payments and $2bn of stock buybacks.
P&G expects to pay about $8bn in dividends this year and return up to $17bn of cash to shareholders.