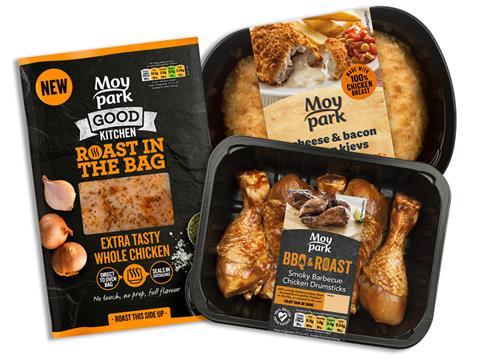 A 10.2% jump in volume sales of fresh poultry helped Moy Park boost revenues by 6.6% in 2017's first quarter.

While cost inflation hit short-term profitability, an increase in operational capacity and strong poultry sales helped Moy Park deliver volume and revenue growth, according to results posted by parent company JBS.

Sales at JBS Europe - the division which houses Moy Park - were up 6.6% in the first three months of 2017 to £370.4m, it revealed, driven by the surge in fresh poultry sales.

Despite a backdrop of "challenging market conditions", Moy Park's UK and Ireland business enjoyed "strong volume growth" of 9% in Q1 2017, with revenues up 5% to £280m. European revenues were up 1%.

Profits before tax fell 20.8% to £7.5m, but this slump was expected due to inflationary pressures, said CEO Janet McCollum. The underlying performance of the business remained "strong", she stressed.

The surge in fresh poultry sales follows a spate of NPD from Moy Park in recent months, as well as significant investment in its production and processing facilities in the UK and Ireland.

The business was on track to complete its new hatchery in Newark in the East Midlands later this year, which would further support "the growth of our UK operations", McCollum said.

Shrugging off concerns over the "uncertainty" that Brexit would bring, McCollum insisted Moy Park's "outstanding product portfolio" and "robust financial position" left it well positioned for success.

"Our unrelenting focus on cost control, strong customer relationships and a culture of innovation continue to provide a strong platform for future growth," she added.

JBS also enjoyed a good start to the year globally, said CEO Wesley Batista this week.