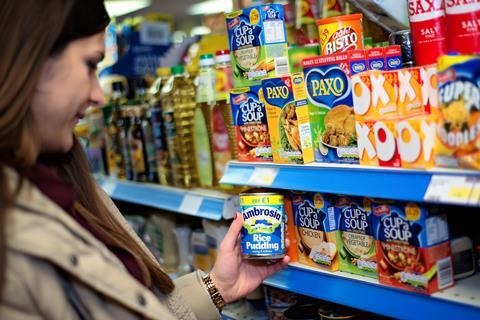 Premier Foods CEO Alex Whitehouse is confident the group can hold on to the wave of new shoppers flocking to its stable of household favourites such as Bisto, Oxo and Ambrosia during the coronavirus pandemic.
Revenues rocketed 15% to £421.5m at the group in the six months to 26 September, as 1.1 million new consumers picked up its brands as the nation continued to cook more at home.
Whitehouse told The Grocer today the business had won over a younger demographic who may not have used its products to cook with before but had picked up new skills during lockdown.
As well as the new customers, shoppers turned to brands they recognised and trusted as the nation went into lockdown, he added.
It helped Premier outperform the market in every category in which it trades, winning market share across the portfolio.
Increased investment in marketing, with TV campaigns for Bisto, Batchelors and Mr Kipling, also boosted the group's performance as Premier continued its brand-building growth strategy that has now delivered 13 consecutive quarters of rising sales.
"We have not let our foot off the gas in our brand-building model at all," Whitehouse said.
"We will continue to focus on the growth strategy, which also delivered a strong performance before Covid.
"There is also the possibility a lot of the new households we have picked up over the past six months will continue new habits. If they have made a spaghetti bolognese that includes an Oxo stock cube then there is a chance we keep that household."
Branded revenues in the half jumped 18.6% to £367.3m, more than offsetting a 4.9% decline in own label.
All the major grocery brands grew in strong double-digit terms during the first half of the year, with Bisto, Batchelors, Oxo, Ambrosia, Sharwood's, McDougall's and Nissin all standout performers.
Turnover in the grocery division soared 25.2% to £273.1m. However, growth slowed from 39.2% in the first quarter of the period to 13% in the second three months as lockdown restrictions eased in July and people made more visits to restaurants to take advantage of the Eat Out To Help Out scheme in August.
Growth in the sweet treats division was more modest across the half, with revenues up 2% to £104.8m, as shoppers focused more on buying staple goods.
Trading profits in the half jumped 28.7% to £65.8m after taking into account increased marketing spend as Premier put its brands back on television, as well as Covid-related costs. Pre-tax profits increased by £35.5m compared with a year ago to £50.5m.
The strong performance helped the group reduce net debt to £382.8m, down £87.9m on last year's level. The sale of Hovis to private equity firm Endless last week will also help Premier pay down debt after it netted £37m from the proceeds.
Premier expects demand for its brands to continue through the second half, helped by the new lockdown, as well as new product innovation and increased marketing, with six major brands planned to be advertised on TV, including Ambrosia, which will be on air for the first time in many years.
As a result, Premier forecast its trading profits for the year would be ahead of current market expectations.
"The longevity of this increased demand is likely to be linked to the duration of these new measures, and although we have tougher comparatives in the fourth quarter, we anticipate that trading profit for the full year will be ahead of current market expectations," Whitehouse said.