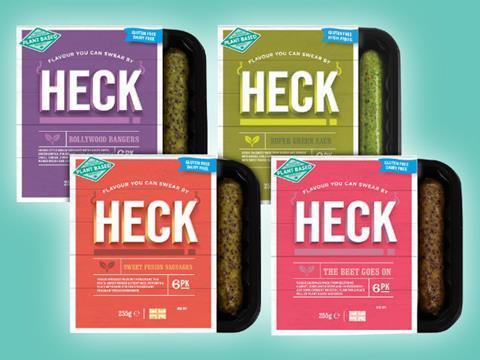 Profits quadrupled and sales soared at Heck sausages on the back of manufacturing efficiencies.

The premium sausage maker saw sales jump 20% to £21.1m in the year to 31 July 2018, as it also expanded its plant-based range.

Heck has continued its rapid growth in the current financial year and is "on track to make £30m in 2019", it said.

Profits also surged during the year, rocketing to £721k, from £182k in the previous year, as margins improved on the back of new efficiencies.

The supplier, which will see its vegetarian sausages stocked in Tesco in coming months, has improved profitability since investing £1m in a sausage machine that makes up to 60,000 sausage an hour.

The news comes weeks after EU funding for Heck's planned Sausage World tourist attraction in Bedale, Yorkshire was withdrawn, forcing the brand to shelve the project.

Work on the proposed £4m visitor centre with restaurant had been due to begin this summer after plans were approved, but the company later found out the grant it had intended to fund the project with was no longer available.