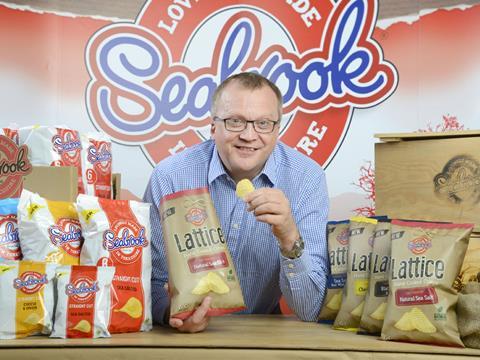 Profits have climbed more than 60% at Seabrook Crisps in the year leading up the £35m buyout by LDC, as CEO Jonathan Bye completed his turnaround plan and moved the snack maker into the "growth phase".

An 11% rise in sales to £27.2m in the year to 29 March 2015, driven by the success of new lattice and straight-cut ranges, has helped pre-tax profits move from £1.6m to £2.7m as the Yorkshire brand continued to focus on lowering costs.

Household penetration increased to 26%, with the brand outperforming the category and its "entire competitive set", Bye said in the newly filed accounts.

Seabrook made losses of £1.7m before Bye's arrival in 2012. He has since pushed the business firmly back into the black and completed a management buyout backed by private-equity firm LDC in July this year - as exclusively revealed by The Grocer. "We are very much now into the growth phase, but we are mindful of how competitive the category is. However, we have exciting plans for 2016 to maintain this level of performance," Bye said this week.

He added the bottom line was on track for another year of double-digit growth in 2015-16, with sales forecast to grow in the high single digits.

Seabrook should do well out of the Tesco and Asda range resets, Bye added. "We applaud the resets as we hope it will give a fairer reflection of what the consumers want."

The brand's value is up 6% to £32.2m, way ahead of 0.8% growth for the bagged snacks category and outperforming most Walkers, PepsiCo and KP Snacks lines [Nielsen 52 w/e 3 October 2015].

"We are relatively small, but we are the challenger brand in the category and we're acting like one by introducing proper innovation with lattice and the peel-and-share bags," Bye added.