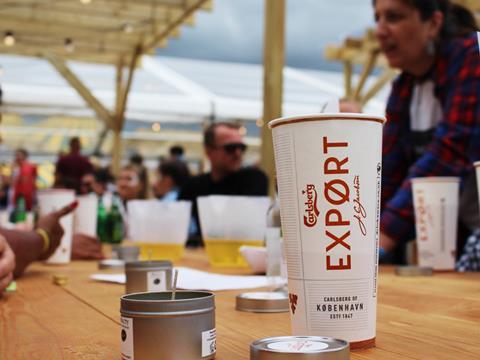 Denmark may have knocked out in the second round of this summer's World Cup but the country's brewing giant Carlsberg had plenty to celebrate this summer.
On Thursday Carlsberg upgraded its full-year earnings expectations after posting a 5.1% rise in organic net revenue in the first half of the year, driven in no small part by the World Cup in Russia.
Russia has been Carlsberg's largest market, making up around 20% of the brewer's global earnings. Last year its global sales volumes were dragged back by a 3% drop in Russian sales partly due to a law change in the country restricting the size of plastic beer bottles. This carried on into the first quarter with volumes down 11%, but a 10% surge in Russia sales volumes in the second quarter bought back first half growth in Russia to 1%.
Total organic net revenue growth of 5.1% was boosted by 7.6% organic growth in the second quarter, though reported net revenues were down 0.7% over the six-month period to DKK30.97bn despite 2.9% reported revenue growth in the second quarter.
Of Carlsberg's key brands, Tuborg volumes growth 8%, Carlsberg was up 4%, Grimbergen up 11% and 1664 Blanc up 55%. In particular, Carlsberg saw a 17% jump in organic growth in China in the first half driven by demand for these brands.
In the first half it reported operating profit growth of 14.2%, which translated to reported growth of 6.0% to DKK4.4bn. Its cost efficiency programme Funding the Journey is "progressing well", with total net benefits now expected to exceed the previously forecast DKK 2.3bn.
Based on the strong H1 performance, the upgrade of the expected Funding the Journey benefits and a "good" start to the third quarter, the brewing has hiked its earnings expectations upwards to high-single-digit percentage organic growth in operating profit having previously guided towards a mid-single-digit increase.
Analysts at Société Générale called the first half numbers "very strong", adding: "Consensus for full year organic sales growth is 4% and with Q3 showing continued strong growth so far, thanks to the weather, this is likely to nudge up to 5%."
Sydbank analyst Morten Imsgard contended that "there is more than good weather to these results", adding: "What lifts the earnings is that they've sold more expensive beers. They have really good growth in premium, craft and non-alcoholic beers, which is very positive."
Carlsberg shares were up 3.2% to DKK788.40 on Thursday, having risen 11.9% over the past three months.