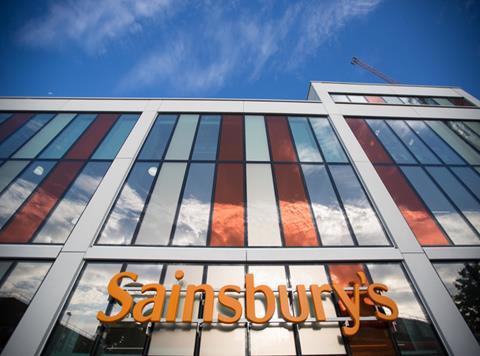 Sainsbury's posted 0.3% growth in combined like-for-like sales for the final quarter of the financial year, bolstered by strong like-for-like growth of 4.3% at Argos. Supermarket sales were down by 0.5% with a 4% slump in general merchandise, which CEO Mike Coupe attributed to the late timing of Mother's Day and Easter this year.
Here's how the analysts reacted to the results.
David McCarthy, analyst at HSBC, said: "The core business is suffering from falling sales, rising costs and margins under pressure. Sainsbury's blames part of the poor sales performance due to later timing of Mother's Day and Easter, particularly for general merchandise, with like-for-like sales down 4%. Stripping out the Mother Day's/Easter impact, management estimates like-for-like sales would have been broadly flat, which would still represent a volume decline, particularly in core stores, and relative underperformance to key competitors.
Looking forward for supermarkets, we can see continued pressure on the core estate as Tesco continues to win volume, as Asda stems its sales losses and as Morrisons continues its transition from weak retailing to good retailing. 2017 could be the first year in many years where all the major competition perform well, and win volume market share back from Sainsbury's."
Shore Capital analyst Clive Black was more positive. "We see this as a steady update from core Sainsbury's, and a further positive performance from Argos, and we do not anticipate any material adjustment to our (or consensus) expectations for the company in 2017," he said. "Mike Coupe was recently quoted as saying that the Argos integration was a case of 'so far, so good', and today's encouraging update certainly supports such an assertion in our view."
John Ibbotson, director of Retail Vision, was also impressed by the Argos performance. "Argos is proving a guardian angel rather than an albatross for Sainsbury's. While the acquisition of the catalogue brand initially swallowed time and resources, it is now paying dividends for Sainsbury's.
"Argos' strong performance provided the stand-out numbers in an otherwise challenging set of quarterly sales figures. Of key concern for Sainsbury's will be the 0.5% fall in like-for-like retail sales and the 4% slump in general merchandise sales, which more than cancel out any reassurance provided by the brisk performance of its clothing brand Tu.
"Despite enjoying a better than expected Christmas, Sainsbury's continues to lose market share – and the brand's much-vaunted turnaround plan has been slower to show results than those of its rivals. Its core grocery business remains adrift as Tesco and Morrisons staunch their losses and fight back with aggressive price cuts and fundamental structural reforms.
"In this context, Argos could emerge as a 'get out of jail' card for Sainsbury's. With strong sales growth, albeit at the expense of margin, Argos offers Sainsbury's the chance to build a long-term and genuinely multi-channel strategy.
"Sainsbury's is playing a longer game than some of its rivals by positioning itself squarely for the internet age. Future-proofing itself in this way could pay big dividends down the line. It is by no means out of the woods yet, but having a plan that's different to its competitors - and sticking to it - can count for a lot in the current environment."
Bernstein said the Argos growth was better than expected but expressed concerns over Coupe's repeated descriptions of the market as "competitive" and "uncertain". "The cautious tone from management provides no reassurance to investors," it said.
Shoppercentric MD Danielle Pinnington said the results highlighted "the changing nature of grocery shopping in the UK". "Convenience and online sales remain strong, whilst the main estate sees a drop. They need to ensure the core of the estate develops to appeal to today's shoppers, who may have quite specific missions, but be open to persuasion if the in-store experience is compelling enough," she said.
"Sainsbury's have shown themselves able to reflect shoppers needs, for example through its 'Feed your family for a fiver' campaign during the recession. They need to find the propositions and communication that reflect today's shoppers needs and keep the main estate competitive."
And Paul Thomas, senior consultant at Retail Remedy, was confident that Sainsbury's could grow its business despite concerns over the axing of 400 price controller roles. "A continued focus on cost saving has led to the announcement of job cuts recently. On the one hand this is distressing but on the other its shows a commitment to moving with customer shopping habits and technology advances which improve efficiency and benefits the customer in the longer term. It is not just cutting costs, it is growing the business."