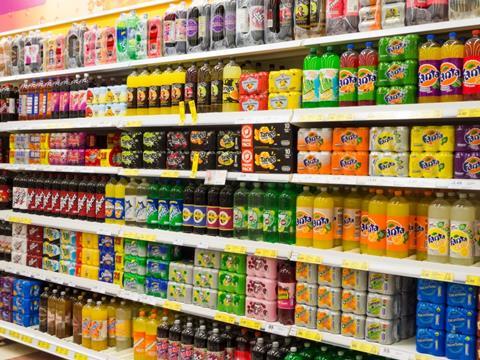 Last week it was Britvic, now it's AG Barr talking of a second half slowdown in the UK soft drinks market.
Both Britvic and AG Barr – who came close to a merger last year – saw strong revenue growth in the first half and their share prices have both edge up over the past year. But that growth has fallen away in recent months and Britvic in particular issued a slightly downbeat commentary on current trading conditions.
The poor summer weather has clearly had an effect on the soft drinks market – with August temperatures below average and well down on August 2013.
But there are also signs that the hyper-competitive retail environment is beginning to have an effect on fizzy drinks as suppliers are squeezed by price pressures on one side and the increase of own label – including the discounters – on the other.
Today AG Barr said underlying sales (excluding the loss of Orangina revenue) had fallen by 0.6% for the 18 weeks from the end of July – though year to date revenues have grown by 3.5%.
There's no doubt the awful summer had an impact – AG Barr was up against extremely tough comparatives given the excellent summer of 2013 when the Irn-Bru maker grew revenues by 8%. Announcing its half-year results in September the company that "tough weather-driven comparatives" will have a short term impact on trading.
But the Met Office today said that 2014 has also been the warmest year on record, with only August temperatures below average. The unseasonably warm Easter and autumn weather should have offset August to some extent.
However, the industry as a whole has seen sales rise just 0.4% this year – suggesting other factors are at work.
Analysts at Investec put AG Barr's third quarter decline down to: "an increasingly difficult" market with "very competitive pricing (including BOFOFs in cola) and some destocking by wholesalers (now restocking)."
These pressures were evident in Britvic's Q4 update last week when it reported a revenue decline of 2.1% for its GB businesses and admitted that its new year had "begun slowly". It's been a while since Nicholls updated the market, but its 3% revenue rise in the first half also seems to fit the early year pattern recorded by its UK soft drinks contemporaries.
Britvic last week pointed to the supermarket price war and an increased focus on consumer health as factors weighing down growth – with Simon Litherland, chief executive saying he was seeing "little growth in the market" amid "increasingly challenging" conditions.
AG Barr was a little more bullish – insisting it remained on course to hit full-year trading targets.
Certainly this soft drinks slowdown has been slow to hit the UK-listed players' share prices. While other brand suppliers to the supermarkets have seen their share price hammered (think Premier Foods), Britvic and AG Barr have remain 3.1% up and 7.5% up year-on-year respectively.
However, both have fallen in recent days, with Britvic around 3% down since reporting its numbers last week and AG Barr currently 4.2% down over the past five trading days.
Both companies have shown solid performance in a difficult market this year. But those small share price dips may become more significant if the recent sales slide continues as blaming the British weather will only buy so much time.