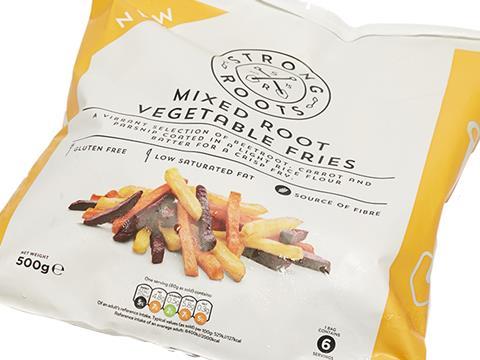 Challenger brand Strong Roots has surged to the top of Alantra's Fast 50 list, amid a resurgence of growth in the frozen food category.
The supplier of frozen plant-based burgers and sides has rocketed to £9m in annual sales, just four years after its launch.
Its rapid growth saw it pip sports nutrition brand Grenade and last year's top dog, Pots & Co, to head up the annual list of the 50 fastest growing privately owned fmcg firms.
Strong Roots, which was founded by Sam Dennigan in 2015, delivered 109.1% compound annual growth in the past three years, buoyed by rapid acceleration in the UK after bringing the brand from his native Ireland.
Consumer demand for plant-based options and a resurgent frozen food category has helped the supplier to gain listings across each of the big four supermarkets. Dennigan now sets his sights on growth in the US and believes the brand can jump to £100m revenues in the UK in the next five years.
"We've had a good start but there is a lot to do. There is a lot of headroom for growth in the categories we are playing in, as well as the new categories that we are designing products for," he told The Grocer.
"Our growth highlights a missed opportunity by some in frozen. I come from the fresh industry, and the reason I ended up in frozen was partly because some of the bigger legacy brands haven't been innovating in the way the consumer wants for a long time."
The company is currently in discussions with potential partners regarding an equity raise, to assist with its impressive growth aspirations, Dennigan added.
Alantra partner Simon Peacock said: "The UK's privately-owned food and beverage companies consistently outperform on innovation and disruption – they're highly skilled at identifying what their customers want and developing new products to meet that need."
A number of other suppliers featured in the list have eyed up significant investment or sale opportunities on the back of their strong growth, including Gosh-owner Claybell and crisp-maker Its All Good, which both hired Houlihan Lokey to advise on sale options last year.
Continued consolidation in the sector saw some businesses from last year's list eaten up by larger competitors, including Princes Gate water, acquired by Nestle in May 2018, and Aspall's Cyder, acquired by Molson Coors in January 2018.
Alantra director Charles Lanceley said: "I can't see consolidation slowing down. There's too little growth coming from the giants in the industry for them to be comfortable with an organic future."
"They will be there looking and with the number of interesting fast-growing brands and the money at their disposal, inevitably deals will happen.
"Strong Roots is a phenomenal business. Consumers in frozen have, for a while, been neglected compared to other areas of the supermarket. Sam saw that and then created the range to satisfy those needs."