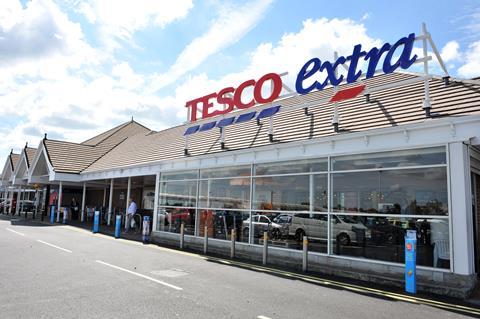 Top story
Tesco (TSCO) boss Dave Lewis today claimed Christmas saw the "best operational performance" he had seen since he joined the supermarket in 2014, despite subdued market conditions leading to a slight fall in its Q3 performance.
UK Like for like sales were up 0.1% in the six weeks to 4 January, whilst down 0.4% for the 13 weeks period to 23 November.
Lewis said on an average basket of 21 products Tesco was £2.28 cheaper than the year before over Christmas and claimed availability was also the best for the festive period since he was parachuted in.
"This was the best operational performance I've seen in my time in the business", Lewis said this morning, adding "on 23 December we sold more food than any day in our history."
The results were the fifth consecutive period of Christmas growth for Tesco.
"Over the Christmas period we outperformed the market in both volume and value terms, with a strong performance in fresh food," said Lewis.
"Further improvements in price and quality were complemented by our 'Festive 5' vegetable offer and an enthusiastic customer response to our significantly expanded range of plant-based foods.
"Customer satisfaction with our shopping trip further improved and we saw our highest level of availability in six years."
Across the quarter Lewis said trading conditions had been "challenging" but said Tesco had been helped by the November launch of its Clubcard Plus loyalty scheme, which he claimed had seen a positive, although not yet material, response.
Lewis today also repeated his call for a "fundamental review" of the business rates system which he said had been a major factor behind the raft of closures in the retail sector.
Morning update
Waitrose like-for-like sales nudged up 0.4% over Christmas as its online grocery business boomed.
However, the supermarket's gross sales, excluding fuel, were down by 1.3% to £1bn over the seven weeks to the 4 January, which Waitrose blamed on shop closures.
Gross sales at the John Lewis Partnership were also fell by 1.8% compared with a year ago to £2.2bn as John Lewis stores recorded a 2.3% drop in sales to £1.1bn – a 2% fall on a like-for-like basis.
Waitrose online sales increased by 16.7% in the period and by 23.4% in the seven days leading to Christmas. John Lewis online sales, by contrast, only rose 1.4%.
JLP chairman Sir Charlie Mayfield said: "We saw a good sales performance in Waitrose & Partners, despite a weak grocery market, with like-for-like sales up 0.4%.
"Operationally – across availability, service, delivery and online – we saw a strong performance in both brands."
He added that, at John Lewis, beauty sales were up 4.7%, "comfortably ahead of the market", with overall fashion sales up 0.1%.
"We saw significant variation in levels of demand with Black Friday sales up 10% on the equivalent period last year, followed by more subdued demand in the subsequent weeks," Mayfield said.
"In Waitrose & Partners, we saw encouraging progress against our milestones to accelerate growth online next year, with a 23.4% increase in orders and an increase in basket sizes in the seven days to Christmas.
"At the full year, we expect profits in Waitrose & Partners to be broadly in line with last year. In John Lewis & Partners, we will reverse the losses incurred in the first half of the year, but profits will be substantially down on last year. We therefore expect that Partnership profit before exceptionals will be significantly lower than last year. Our balance sheet and liquidity position are strong and we expect to improve our debt ratio."
JLP also announced that Paula Nickolds, currently the John Lewis managing director, will step down from the board and leave the partnership in February 2020 as part of the group's new Future Partnership structure. Nickolds has been with the company for 25 years.
The group said "good progress" had been made in implementing the new structure, with more than 90% of leadership appointments now confirmed.
Marks & Spencer (MKS) continued to deliver an improved food performance in the run-up to Christmas with like-for-like grocery sales rising 1.4% (1.5% on a total basis).
Food sales during the period rose to £1.7bn as customers responded to "sharper value" and innovation, the company explained.
The retailer's overall performance however was hindered by declining sales in its Clothing & Home unit, down 1.7% on a like-for-like basis in the 13 weeks to 28 December.
Like-for-like UK sales rose 0.2%, falling 0.6% on a total basis, to £2.8bn.
M&S said the improved trading performance reflected the company's "ongoing progress of transformation strategy" as it seeks to rebuild its fortunes after losing its spot in the FTSE 100 last September.
CEO Steve Rowe said: "We delivered an improved performance in Q3 across both main businesses.
"The Food business continued to outperform the market and Clothing & Home had a strong start to the quarter, albeit this was followed by a challenging trading environment in the lead up to Christmas.
"As we drive a faster pace of change, disappointing one-off issues – notably waste and supply chain in the Food business, the shape of Menswear and performance in our Gifting categories – held us back from delivering a stronger result."
However, Rowe claimed the changes implemented at the retailer during 2019 have "arrested the worst of the issues" experienced during the first half of the financial year.
M&S kept its full-year guidance unchanged but warned gross margins are expected to be around the lower end of guidance due to a cost reduction programme.
Naked Wines (WINE) had said its Christmas trading for the 10-week period ending 31 December was "within the range of expectations", with underlying revenue for the continuing business up by 11% year on year.
Total gross margin was up 1 percentage point in the period as a result of a higher proportion of repeat customer sales.
Investment in new customers for the year is expected to be at the lower end of the £20-25m range previously indicated with the interim results, with this lower investment expected to flow through to higher profit in the year.
Naked also announced that Greg Hodder has formally stepped down from the Board with effect from today having handed the Chairman role to John Walden at the conclusion of the AGM in August 2019.
This follows the move of Rowan Gormley, CEO, to retiring from the group Board as of today. Nick Devlin will take over the group CEO with immediate effect.
Devlin commented: "The team have worked hard over the Christmas period and delivered a good performance. With the important Christmas season behind us, we are now acutely focused on executing our plans and achieving our huge growth potential.
"Rowan leaves the business in great shape. We have the internal capability, clarity of purpose and financial resources to push ahead with our growth plans and deliver value for customers and shareholders alike."
Soft drinks producer Nichols (NICL) said it was "pleased" with its annual performance after sales rose 3.6% to £147.2m.
UK sales rose 2.7% in 2019 to £117.7m, with the Vimto brand achieving growth of 0.8% in line with an overall soft drinks market, the company said.
Out-of-home sales in the UK rose 8.4% to £45.7m following the acquisition of dispense distributor Adrian Mecklenburgh in February and the introduction of the ICEE brand in the second half of the year.
Revenues in Nichols' international markets grew 7.5% to £29.5m, driven by Middle East sales up 21%.
Chairman John Nichols said: "We are pleased with the sales performance in 2019 reflecting growth across all three areas of our business.
"The Vimto brand has again performed very well in the UK, despite strong prior year comparatives."
The company remained "confident" of its long-term prospects, he added, with pretax profits expected in line with market views.
Pup group Mitchells & Butlers (MAB) has posted a trading statement covering the 14 weeks ended 4 January 2020.
It said the group traded "well" over the core three-week festive period, with like-for-like sales growth of 5.6%, including "strong performances on all of the key festive days".
Overall sales have strengthened over the period, with like-for-like growth of 3.5%, with particularly strong food sales growth.
Food was up 4% like for like in the seven week period, while drink was up 2.7%.
CEO Phil Urban commented: "We are pleased with our trading performance over the festive trading season against a strong set of results last year, again demonstrating the breadth of appeal of our brands for special occasions.
"We achieved record sales levels across the five key festive days at growth of 6.5%. This continued progress reflects the output of our Ignite initiatives which will continue to be our focus for the year ahead."
Meat packing firm Hilton Food Group (HFG), has updated the market on trading for the full year to 29 December ahead of its annual results on 26 March.
The Tesco meat supplier said the group has performed in line with the Board's expectations, with a continuation of the strong year-on-year sales and volume growth driven primarily by operations in Australia and also reflecting growth in a number of existing and new markets.
It saw continued growth in Western Europe, with higher turnover particularly in the UK, where we started to pack all of Tesco's beef and lamb from July. It also saw a significant contribution from Seachill, which has benefitted from a full year of the Tesco shellfish business as well as increased level of breaded products to Waitrose.
In other Western European markets, trading has generally remained "good". In Denmark, sales continued to pick up resulting in higher turnover. In Sweden and Holland, whilst sales were slightly lower than last year, we continued to perform well.
Additionally Dalco, its vegetarian and vegan business, has "progressed well" with listings also secured with a number of our Retail customers.
Hilton's business in Australia has performed well, delivering strong year-on-year growth, reflecting the volumes from the new plant in Heathwood in Brisbane, as well as incremental volumes from its plant in Victoria.
Hilton said its trading outlook remains positive, with significant growth prospects underpinned by the previously announced expansion plans in Australia, in Central Europe (fresh food) and subsequently in New Zealand, as well as further opportunities arising from the move into fish via the Seachill acquisition and the roll-out of vegetarian products.
"Hilton's financial position remains strong, underpinned by good operating cash flow and with incremental facilities to fund additional expansion opportunities," it stated. "Hilton remains well placed to deliver continued growth over the medium term enhanced by further opportunities to develop our cross category business in both domestic and overseas markets."
On the markets this morning, the FTSE 100 is back up 0.4% to 7,607pts.
Tesco has started the day up 2.2% to 256.4p on its better than expected Christmas trading update. However, M&S has plunged 8.5% back to 200p on its trading update this morning.
Other risers include Mitchells & Butlers, up 5% to 442.5p on this morning's update, Premier Foods (PFD), up 4.7% to 38.8p, and PZ Cussons (PZC), up 2.2% to 207.5p.
Fallers include AG Barr (BAG), down 5.3% to 537p, WH Smith (SMWH), down 1.7% to 2,574p and Associated British Foods (ABF), down 0.5% to 2,649p.
Yesterday in the City
The FTSE 100 ended the day flat at 7,574.9pts yesterday.
The day's risers included McColl's (MCLS), up 9.1% to 43p, Hotel Chocolat (HOTC), up 2.8% to 507p, Compass Group (CPG), up 2% to 1,897.5p, British American Tobacco (BATS), up 1.9% to 3,468.5p, SSP Group (SSPG), up 1.7% to 668p and Tate & Lyle (TATE), up 1.4% to 774p.
The supermarkets were amongst the City fallers, with Morrisons (MRW), down 2.4% to 190.8p, Sainsbury's (SBRY) down 1.7% to 227.2p after it posted its third quarter results yesterday and Tesco down 1.4% to 251p ahead of its trading update this morning.
Other fallers included McBride (MCB), down 2.7% to 82.5p, AG Barr (BAG), down 2.2% to 567p, FeverTree (FEVR), down 2.1% to 1,914.5p, Nichols (NICL), down 1.9% to 1,412.5p, Hilton Food Group (HFG), down 1.9% to 1,052p and Pets at Home, down 1.9% to 275p.