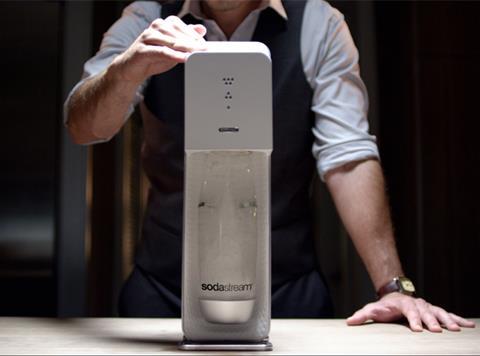 SodaStream has reported a 36% rise in UK sales for the first three months of the year after stepping up its marketing to take advantage of consumer demand for low-sugar fizzy drinks.
The US-listed firm said attributed the UK sales uplift to a "consumer shift to low sugar and naturally flavoured water substitutes".
SodaStream is now the third largest sparkling water brand in the UK.
Sumen Rannie, commercial director at SodaStream UK said: "SodaStream is perfectly placed to respond to the current consumer demands for healthier alternatives to fizzy drinks. It provides sparkling water on tap and rides the fruit trend with natural, low sugar flavours. We know that globally, people are concerned about their sugar intake and our growing sales are testament to this fact."
She cited consumer research which showed SodaStream users consume three more glasses of water and water-based drinks a day and 54% less sugary fizzy drinks.
"Unlike store-bought fizzy drinks, SodaStream consumers can opt for either natural sparkling water or add as much (or little) flavour to their drinks," Rannie said.
Last month Sodastream said its sales in Western Europe were up by 15% so far in 2016 to $62.6m.
The firm added that significant investment in TV advertising across its European markets has helped bolster the brand's growth.
Overall first quarter group revenues increased 10.4% to $100.9m from adjusted revenue of $91.3m in the first quarter last year. EBITDA increased 61.7% to $12.3m.
Daniel Birnbaum, CEO of SodaStream said: "Our first quarter results demonstrate that our growth plan, which centres on repositioning the SodaStream brand around sparkling water and building a stronger, more efficient organization, has started to take hold."
"Sales exceeded our expectations driven by strong gains in Europe as our new messaging fuelled increased demand for sparkling water makers, gas refills and our enhanced flavor line
Sodastream shares are currently up by around 21% so far in 2016 to $20.90 after exceeding market growth expectations in 2016.