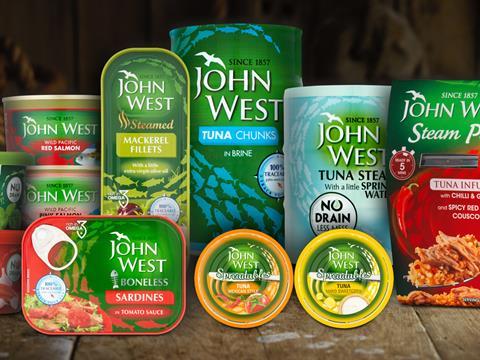 Seafood giant John West saw turnover grow by 7.6% last year, reflecting a "significant increase" in volumes of fish sold. However, profit fell sharply on the back of tough Brexit-influenced trading conditions.

Turnover jumped from £207m to £222.7m for the 12 months to 31 December 2016, according to the supplier's latest accounts, as John West enjoyed a rise in sales driven by NPD activity.

But despite operating a global procurement policy, John West said it had failed to avoid the "difficult trading conditions" experienced by the seafood sector, as the effects of a weak pound on a category that buys in dollars ate into its profits.

Gross profit fell by 21.9% to £22.6m, while gross profit as a percentage of turnover fell from 14% to 10.2%. Profit before tax also fell, from £9.8m to £4.3m. However, the percentage of John West's turnover from countries outside the UK grew, from 18.6% in 2015 to 19.3% last year.

It comes as John West owner Thai Union last week unveiled the details around its SeaChange commitment to source 100% of its branded tuna from fisheries that are either MSC certified, or engaged in Fishery Improvement Projects (FIPs), with at least 75% of this target achieved by the end of 2020.

Speaking at the European Commission's Our Ocean conference in Malta, Thai Union's CSR and sustainability director Sylvain Cuperlier said the company would invest $90m (£76m) in increasing the supply of sustainable tuna by establishing 11 new tuna FIPs around the world by the end of the decade.