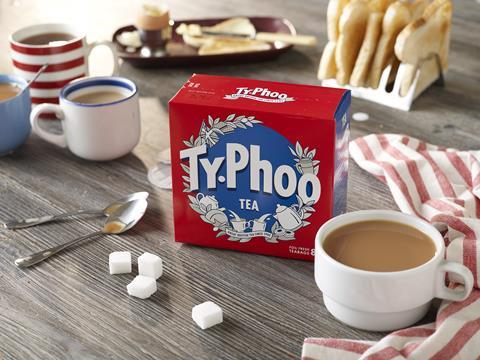 Historic tea brand Typhoo is hoping to move back into the black this year after shedding unprofitable contracts and rationalising its range of teas.
The tea supplier, in which private equity investor Zetland Capital bought a majority stake in July, almost halved losses in the run-up to the investment, newly filed accounts at Companies House show.
Despite experiencing another "challenging" period in the year to 31 March 2020, during which sales fell 2.7% to £53.1m, operating losses were reduced to £11.6m from £26.3m. Pre-tax losses were cut to £15.9m from £29.9m.
CEO Des Kingsley told The Grocer "the recovery of Typhoo Tea is well underway". The brand is on course to reach break-even point in the current financial year, he added.
More recent figures show Typhoo's grocery retail sales have continued to fall back, dropping almost 40% in the year to September 2021 [Nielsen].
Kingsley said the top-line decline reflected its strategic decision, taken two years ago, to restructure the business, rationalise its range to remove "unprofitable lines" and implement cost control measures.
"As part of this process, we removed unprofitable lines and loss-making contracts, which in the short term had an impact on the top line whilst improving the bottom line."
"Now, with the support of our new majority shareholders we have a renewed focus on our brands and will be reasserting our presence across all channels, including grocery."
He previously said the investment in the brand this year would enable the company to invest in its factory and "ensure a bright future for the company".
In July Ahmed Hamdani, founder and chief investment officer at Zetland, said: "We are confident that Typhoo can regain its reputation as one of Britain's most loved brands and drive innovation in the sector."
Typhoo previously blamed its significant losses on its pursuit of an "aggressive" sales growth strategy focused on boosting its own-label business, which increased the business' complexity, reduced operational efficiency and depressed margins.