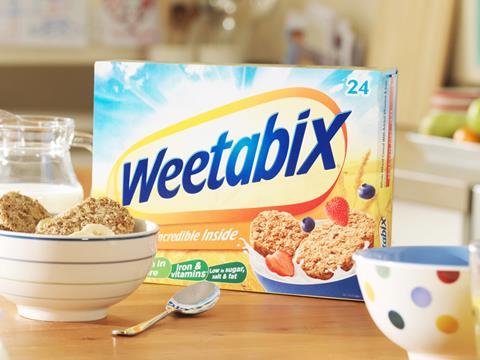 A sales boost at Weetabix in lockdown was not enough to offset a slump in foodservice at owner US cereal giant Post Holdings.
Weetabix revenues in the third quarter to 30 June 2020 increased 3.1% to $111.8m thanks to a 4.1% jump in volumes, with consumers spending more time on breakfast during the Covid-19 crisis. Growth was held back slightly by currency headwinds translating sterling from the UK business to US dollars.
Higher demand for the traditional Weetabix cereal biscuit was also partially offset by declines in on-the-go breakfast drinks and cereal snack bars as shoppers ate breakfast at home rather than on the way to work.
Profits in the quarter at Weetabix jumped 21.6% to $32.6m.
Revenues for the nine months to the end of June for the brand stood at $326.7m, a rise of 4.2% compared with the previous year, with adjusted EBITDA 14.8% higher at $108.7m.
The third-quarter bump was not enough to keep Post Holdings in growth, with group revenues down by $102.8m (–7.1%) to $1.3bn, driven by the slump in foodservice as lockdowns across the US and globally kicked in.
Operating profits slipped 13.2% to $172.1m, primarily driven by losses in the foodservice division.
"Post's foodservice business continues to be negatively impacted by lower away-from-home demand resulting from the impact of the Covid-19 pandemic on various channels, including full-service restaurants, quick-service restaurants, education and travel and lodging," the group said in the results statement.
"From April lows, Post's foodservice volumes improved throughout the third quarter of fiscal year 2020. The continued trajectory of foodservice volumes is expected to highly correlate to the degree that restrictions are imposed on mobility and gathering."
Post, which is the third largest cereal maker in the US, previously withdrew its full-year 2020 outlook as a result of uncertainty around the duration, scope and ultimate financial impact of the pandemic.