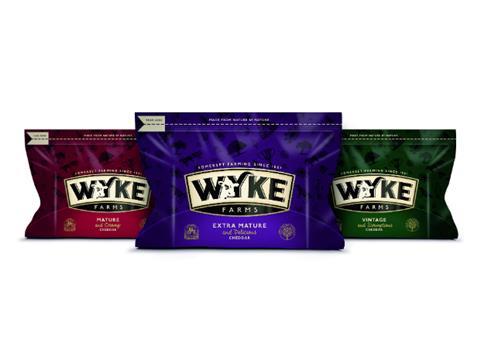 West Country-based cheesemaker Wyke Farms has bounced back from a challenging 2017/18 financial year to post a big increase in profits.
Turnover rose by 14% to £97.2m during the 12 months to 31 March 2019, according to Wyke's latest accounts, with operating profit rising by 44% from £2.7m to £3.9m. Pre-tax profits, which fell by more than 30% during the previous accounting period, jumped by 46.5% to just under £3m.
Wyke's performance during the previous 12 months had followed a "very challenging retail landscape" and soaring commodity prices.
Trading had "remained challenging" during the latest 12-month period, amid consolidation in some multiple retailers, said MD Rich Clothier in the supplier's annual report. This had affected the supplier's branded sales, he added, while competition had made it "difficult to maintain margins".
However, the supplier still managed to grow cheese sales in both the UK and in export markets, he said. Wyke cheese was now sold into 160 countries around the world either directly or indirectly.
"We have also invested in our export infrastructure to ensure the business is of sufficient scale to export quality cheese made in Somerset on the world market," he added.
After expanding capacity at its Wincanton packing plant, Wyke was "now able to stockhold cheese in Europe and effect daily deliveries into most regions. This makes us more robust to Brexit complications and also improves customer service levels", he stressed.
Wyke had also received planning consent to rebuild its dairy during the past year, while profits had been boosted by the contribution of its renewable energy business, helping it save 15,000 tonnes of CO2.
As a result of these improvements to the business, Wyke's board was "satisfied with its results" and "pleased" it was in turnover and profit growth. "This financial year continued to show the merits of running a diversified and balanced business with contributions from cheese, food ingredients and renewable energy," Clothier said.
"Against a backdrop of a very challenging UK retail landscape, the business has managed to maintain and grow its market share."