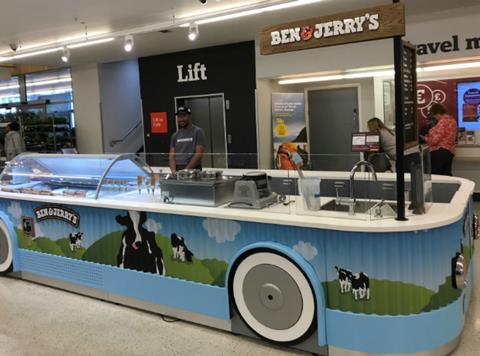 Sainsbury's has teamed up with Unilever to open in-store ice cream parlours, in what the retailer claims is a UK supermarket first.
The companies are trialling a Ben & Jerry's parlour in three of the mult's south London branches, as well as two Carte D'Or outlets in stores in Hertfordshire and Surrey.
The launch sees Sainsbury's shoppers in Balham, Wandsworth and Clapham Common being offered Ben & Jerry's flavours including Cherry Garcia and Double Caramel Brownie. Prices range from £3 for a single scoop to £6.50 for a hand-packed one-pint tub of up to four flavours.
In Bishop's Stortford and Walton-on-Thames, Carte D'Or prices start at £2.50 for one scoop in a sugar cone and go up to £4.25 for a waffle with ice cream and topping or sauce.
"The trial is the first time in-store ice cream parlours have opened in a UK supermarket and demonstrates Sainsbury's commitment to offer customers a distinct and differentiated choice of quality food," said the grocer.
The Ben & Jerry's and Carte D'Or stands would "further strengthen Sainsbury's mission to innovate in its stores to bring customers a wide and convenient choice of quality products and premium brands for every occasion".
Over the past year, the supermarket has teamed up with foodservice partners Sushi Gourmet, Patisserie Valerie, Crussh and Zizzi.