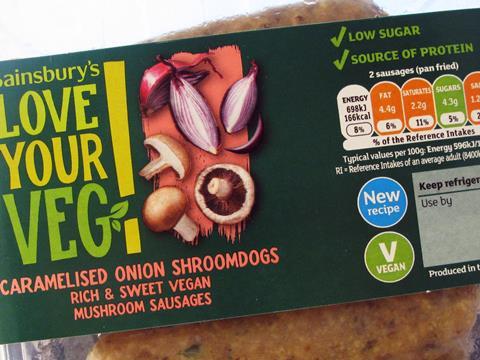 Sainsbury's has revamped its 'next generation' range of meat alternatives with new vegan-friendly recipes.

The retailer has reformulated its "popular" vegetarian caramelised onion and Cumberland shroomdogs and cauli-burgers to make the products entirely plant-based.

The move coincided with Sainsbury's introduction of a Love Your Veg range of ready meals and meat alternatives, with the three products moved into the new range last month.
The three were initially launched under the 'by Sainsbury's' sub-brand as part of a plant-based NPD push in January. The remainder of the range, including pulled jackfruit, mushroom mince and cauliflower steaks remain in the 'by Sainsbury's' range.

Updated recipes ditched egg from shroomdogs and cauli-burgers, while increasing the amount of mushroom in shroomdogs to 26%.

Shoppers took to Twitter complaining they could no longer find the SKUs, creating confusion when told they had been discontinued though, in fact, the updated lines had moved to the protein aisle to be merchandised alongside meat.

A spokesman for the retailer apologised for the incorrect advice, adding the move would enable all its customers to enjoy the sausages.